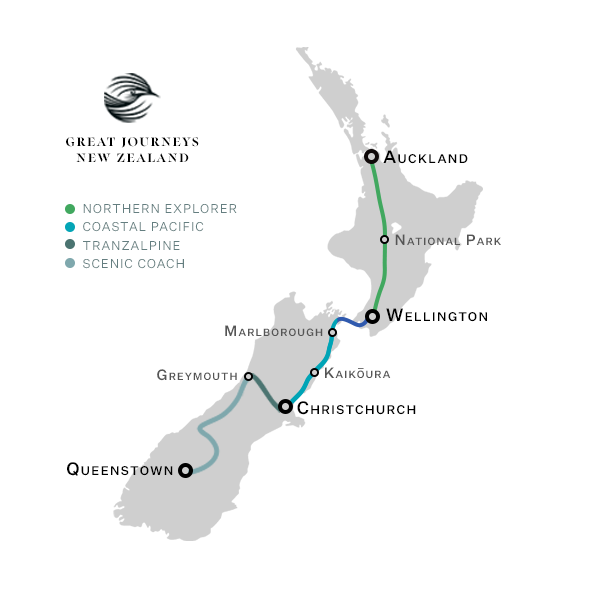 Travel experiences guaranteed to move you
Experience a picture-perfect journey through the heart of New Zealand.
From sleeping volcanoes to cascading waterfalls, sparkling cities to quaint rural farmsteads, golden beaches to snow-capped mountains. We'll bring the best of New Zealand's famous scenery to your window while you sit back and relax.
Choose a world-class rail journey or a full Aotearoa experience. Build your dream itinerary, or choose from our hand-crafted selection of packages and tours.
Whatever you want, we'll take you there.
Connect with our New Zealand trains
Glide through New Zealand in beautiful style aboard our world-famous scenic train journeys.
Wind through rolling meadows to the volcanic hinterlands of the north on the Northern Explorer scenic train
Voyage along the pristine Pacific coastline beneath snow-capped mountains on the Coastal Pacific train journey
Traverse the magnificent Southern Alps on our world-famous TranzAlpine scenic train journey
View all trains
Savour the journey with Scenic Plus
RETURNS 14 APRIL 2023
Feast your eyes on epic TranzAlpine landscapes while dining on a delicious menu of regionally inspired cuisine matched with exceptional local wines.
Our Scenic Plus dining experience returns to the TranzAlpine with an exclusive open-air viewing carriage and brand-new onboard kitchen carriage.
Explore & Book
Experience true local gems with our train packages
Let us take care of the organising while you explore New Zealand's stunning locations. Enjoy our hand-picked scenic packages.
Take a tour of discovery through authentic Aotearoa
Let us take you on an exclusive tour through the authentic treasures of Aotearoa
Amazing Autumn Offers
Explore the season of transformation with our autumnal special offers, from child fares for $25 to 15% off full New Zealand tours!
View All