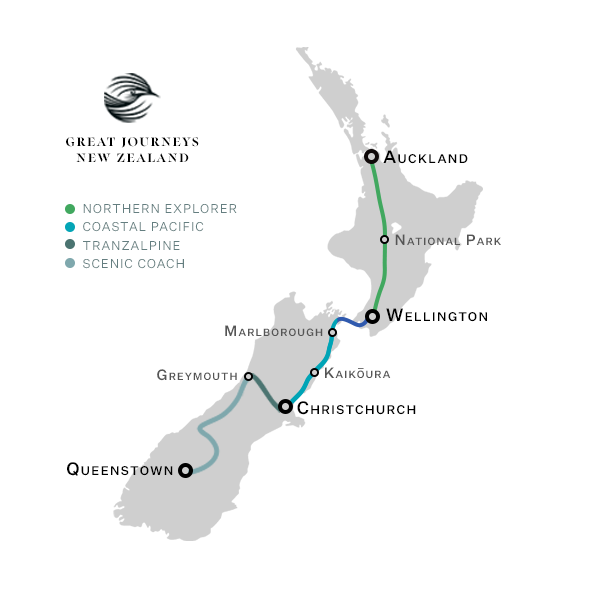 Travel experiences guaranteed to move you
Experience a picture-perfect journey through the heart of New Zealand.
From sleeping volcanoes to cascading waterfalls, sparkling cities to quaint rural farmsteads, golden beaches to snow-capped mountains. We'll bring the best of New Zealand's famous scenery to your window while you sit back and relax.
Choose a world-class rail journey or a full Aotearoa experience. Build your dream itinerary, or choose from our carefully crafted selection of packages and tours.
Whatever you want, we'll take you there.
Connect with our New Zealand trains
Glide through New Zealand in beautiful style aboard our world-famous scenic train journeys.
Wind through rolling meadows to the volcanic hinterlands of the north on the Northern Explorer scenic train
Voyage along the pristine Pacific coastline beneath snow-capped mountains on the Coastal Pacific train journey
Traverse the magnificent Southern Alps on our world-famous TranzAlpine scenic train journey
View all trains
Experience the natural flavours of New Zealand
Elevate your experience with Scenic Plus, a full-sensory exploration of the lands you travel through aboard your New Zealand rail journey.
Using the finest ingredients carefully selected from the spectacular lands you see through your window, we've curated a menu of regional delicacies that are freshly prepared in our custom-built kitchen carriage and served at your seat throughout the journey.
There really is no better way to be immersed New Zealand cuisine and culture.
Discover more
Discover true local gems with our travel packages
Let us take you on a journey where all you have to do is relax and enjoy the best of New Zealand. From city breaks to rural retreats, from iconic activities to hidden gems, simply find your perfect place and let us take care of all the details.
Take a tour of discovery through authentic Aotearoa
Let us guide you through spectacular New Zealand. From sparkling cities to volcanic hinterlands, across shimmering oceans, beneath soaring mountains, beyond the well-beaten paths, we'll show you the treasures of Aotearoa
Discover the West Coast
From idyllic lakes to geological wonders, discover why New Zealand's West Coast is such a spectacular place to visit: