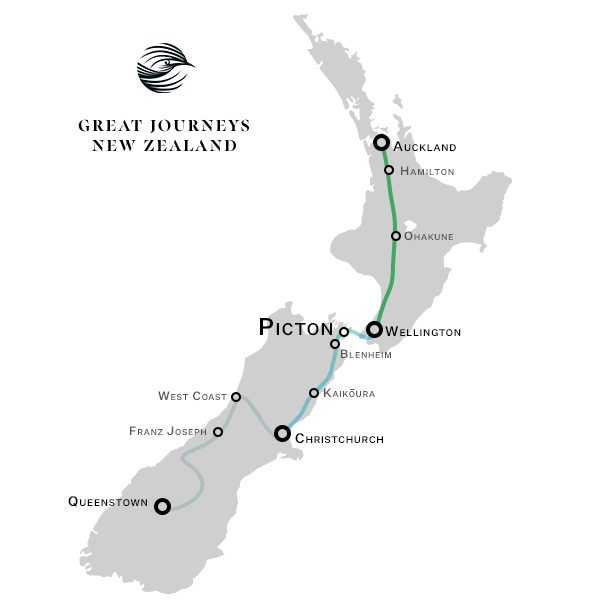 A slice of Marlborough Paradise
At the centre of the serene Marlborough Sounds, the small fishing town of Picton is an idyllic place to stay, be it for a few hours, a few days, or even a week.
But there is a lot more to Picton than the calm lapping waves of the Queen Charlotte Sound and tropical palm trees lining the long sandy beach. Picton is a transport hub, connecting the South Island to the North Island via the inter-island ferries to Wellington and Coastal Pacific train from Christchurch. But the coming and going of ferries, trains, cars, and people do nothing to disturb this idyllic seaside town - in fact, it arguably adds to the magic.
Whether you settle for sunbathing on one of Picton's many beaches or relax at one of the many cafés, bars, and restaurants overlooking Picton Harbour, you will find relaxation and inspiration in Picton.
Things to do in Picton
Whether you are simply stopping by for an hour or so while waiting for the ferry or train, or spending the night in this charming town, there is plenty to do to keep you occupied in Picton. In fact, we recommend you give yourself half a day of scheduled nothingness to unwind.
Rain or shine, the heavenly views of the Marlborough Sounds, the calming palm trees, and the relaxing atmosphere will put a smile on your face and a spring in your step.
Picton Foreshore
You don't have to go far to find yourself relaxing amidst an idyllic paradise of sandy beaches and palm trees in Picton. The Picton Forshore offers everything you need to unwind - a beautiful beach, a colourful splash park, a pirate playground, a mini-putt golf course and a grassy park with ample shade cast by Picton's iconic palm trees.
Stairs leading up from Picton Foreshore bring you immediately to the cafés, bars and restaurants of London Quay at the heart of Picton town. Relaxation is everywhere, and time gently flies by in Picton.
Picton Marina
A short walk around the Picton Foreshore beach will bring you to Picton Marina - filled with everything from small fishing boats to water taxis to multi-million dollar yachts. It is a sailor's paradise, and you can easily spend an hour wandering among these glorious craft.
Also in the marina are a number of outdoor adventure and wildlife tour operators. If you are planning on spending a few days in Picton, then you can hire a bike or a kayak, or take a tour of the stunning Marlborough Sounds.
Crossing the bridge over the marina will bring you to another beach and a walking track that leads to The Snout.
Picton Splash Pad
If you are travelling with children needing to let off steam, then Picton's colourful Water Play Area is the perfect place to cool off. Right on the foreshore, next to the Pirate Ship Playground, this colourful park of water fountains and wet play is the perfect interlude between travel. Make sure you have a day pack with some spare clothes or swimsuits for your kids, as there is little chance of stopping them from dancing in the spouting water.
London Quay and High Street are less than 100m away. With an amazing array of ice-cream shops and cafes to treat yourselves with, it's just the perfect place on a hot sunny Picton day.
Picton Beaches
Whether it's a spot of sunbathing, a paddle in the sea, or just a quiet spot to settle down and watch the ferries drift by, Picton has four beaches that a prime for relaxation.
Picton Beach is on the foreshore in the town centre and just a few metres from the cafes, bars and restaurants on London Quay.
Shelley Beach is just across the Picton Marina bridge - a ten-minute stroll from town - and has toilets and changing rooms.
Governer's Bay is a short fifteen-minute drive along Queen Charlotte Drive and has gorgeous white sands. If you are in Picton for the day, then you could kayak or bike here.
Bob's Bay is a short hike along Lower Bob's Bay track or a 30-minute walk along Upper Bob's Bay track - the latter being the easier option. The beach at Bob's Bay is wonderfully secluded, and the walk is serenely beautiful.
Picton walks
From 30-minute walks to 3-day hikes, there are more than 30 walking trails to choose from in Marlborough with many in walking distance from Picton town.
Picton Harbour Lookout is a short 30-minute uphill walk along Queen Charlotte Drive with rewarding views of Picton and the ferries coming and going up the Queen Charlotte Sound.
The Snout Track is an easy three-to-four-hour walk along the crest of the eastern hills that provides spectacular views over the Queen Charlotte Sound.
Esson's Valley Walkway is a short and shady hour-long bush walk from the southern end of Picton. At the top you'll find a refreshing lake should you need to cool down.
Tirohanga Track is a 1.2km uphill trail that starts in the southeast corner of town and takes 30-40 minutes to climb. The views of the Queen Charlotte Sound make it a rewarding effort.
Kaipupu Point Nature Reserve
To discover more about the local wildlife, head to Kaipupu Point Wildlife Sanctuary. Situated on a small island just beyond the port, this small nature reserve is a community project, built and maintained by locals and funded by donations.
You will need to hire a kayak or a water taxi to reach the island, but it is well worth the trip. The 2.8km bush trail around the island takes you back in time, through authentic native bush, ringing with birdsong.
Walk, Hike, or Bike on Queen Charlotte Track
Queen Charlotte Track is a 70km trail from Anikiwa to Ship Cove along the western hills of Queen Charlotte Sound. Walking along the ridgeline with the Queen Charlotte Sound on one side, and Kenepuru, Mahia, and Pelorus Sounds on the other, the views are simply outstanding.
The track is an easy walk, taking 3-5 days with comfortable stays at the various resorts and lodges dotting the coastline along the way. The trail can be broken down into smaller segments and you can take a mountain bike if you would like to speed things up.
The Queen Charlotte Track website all the information you'll need, including rentals and accommodation options. Most people catch a water taxi to Ship Cove - Captain Cook's favourite retreat - and then walk back towards Picton and Anakiwa.
Eating out in Picton
On a sunny day or warm summer evening, the row of cafes and restaurants on the waterfront is the perfect place to settle down for lunch, dinner, and anything in between. You'll find everything from modest cafe counter food to international cuisine along London Quay, and you'll get to feast on the views of Queen Charlotte Sound whilst dining.
The best meals in Picton are relaxing meals, and you won't struggle to find one of those on the waterfront.
Picton Railway Station
Located in the centre of Picton on the waterfront, Picton Railway Station is conveniently across from the Interislander Ferry terminal.
Find out more about this station.
View Station