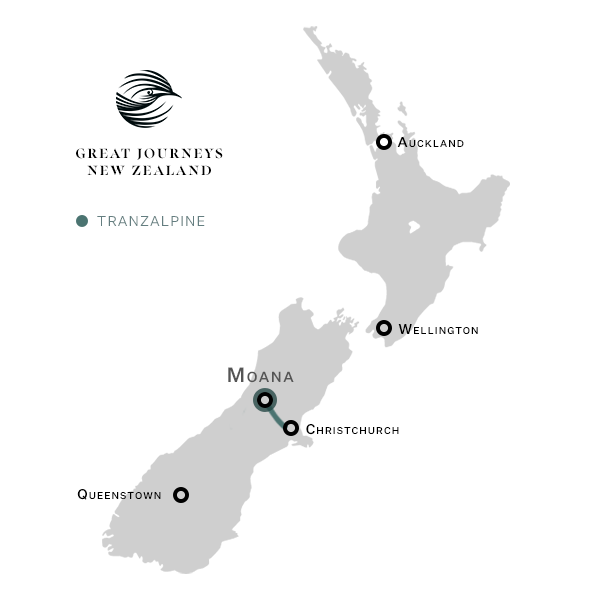 Discover Moana & Lake Brunner
The quaint West Coast town of Moana is located on the banks of the magnificent Lake Brunner, midway between Arthur's Pass and Greymouth on the TranzAlpine train route.
This area is stunningly beautiful, with mountains rising above the glassy waters of the West Coast region's largest lake.
Moana is a perfect destination for those enjoying a day experience aboard the TranzAlpine train. Alternatively, stop a couple of days and really unwind in this idyllic retreat.
Things to do in Lake Brunner
Relaxing and enjoying the spectacular West Coast scenery come top of the list of things to do in Moana Lake Brunner—and these are easy to enjoy in this idyllic little town.
And for those that enjoy walking and fishing amidst spectacular scenery, this will be your heaven.
There are more than a dozen walking trails in the region, with everything from strolling around the shoreline's beaches to short bush walks to full-day mountain hikes.
On the fishing front, Lake Brunner is renowned for its ample stocks of brown trout that can be fly fished all year round.
Lake Brunner Accommodation
Staying overnight in Moana is a fantastic option for breaking up your journey and exploring the spectacular Lake Brunner and West Coast region.
You'll find several options for accommodation near Lake Brunner, including the beautiful Lake Brunner Eco Lodge on the far side of the lake, and the cheap and easy camping facilities at Lake Brunner Motor Camp in Moana. But the most convenient for arriving in Lake Brunner by train is the Hotel Lake Brunner.
Hotel Lake Brunner
An easy stroll from Lake Brunner and even closer to Moana Railway Station, Hotel Lake Brunner is the perfect place to stay whilst in Moana.
The hotel has a stunning selection of rooms, studios, and apartments that feature spectacular views of Lake Brunner and the mountains that rise above the lake.
The hotel's Kingfisher Restaurant & Bar is also the best in town, and the wood-fired hot tubs are the perfect way to end the day after exploring the Lake Brunner walks and biking trails.
Explore Hotel
History of Moana & Lake Brunner
The history of Lake Brunner and Moana stretches a long way back before the arrival of Thomas Brunner in 1948.
Arthur's Pass, which the TranzAlpine train passes through today, is an ancient trail that has brought people through this part of the world en-route to the West Coast for centuries.
Known to Māori as Moana Kotuka, the lake has long been a source of food for those travels and early settlers who fished eel.
Sacred Pounamu

Perhaps the most important part of Moana Lake Brunner history is its geology. Over millions of years, molten rock spewing up from the alpine fault into the sedimentary layer has been squeezed and crushed by the tremendous pressures of the two colliding plates. The result is a glassy stone called pounamu, which also known as greenstone even though it can come in bluey colours.

Pounamu was first discovered in the 10th century by a Polynesian explorer named Kahue whilst he was on a kai (food) gathering expedition on the Tai Poutini (West Coast).

Kahue found a large boulder of pounamu on the river Aruhura and took it with him back to Hawaikinui. The glassy stone was perfect for carving into toki (axes), tutauru (adzes), chisels and knives. As a result, greenstone became a highly prized and sacred commodity. Soon, the area around Moana became populated with pounamu carvers and traders.

Authentic pounamu can only be found on the West Coast of Te Wai Pounamu (the South Island).

Moana Railway History

In the 1880s, a new railway was approved by the Canterbury provincial government. Running coast to coast, the Greymouth to Christchurch railway would connect both sides of the South Island and enable precious coal and timber to be moved efficiently to the growing city of Christchurch.

By 1892, the railway had reached from Greymouth to Moana. However, its progress was halted by the swampland to the east of Moana (near modern-day Iveagh Bay). Construction moved to Inchbonnie, with materials transported by ferry across the lake. Building in both directions, the railway was finally connected between Greymouth and Otira in 1894.

It would take another 30 years to complete the Otira tunnel and connect Moana to Christchurch by train.

Gold Rush History

From the late 19th century, there are murmurings that gold can be found in the Lake Brunner region. Then in 1912 gold is found at nearby Peorua and 21 prospecting licenses are quickly issued.

The Peorua Mining Company soon forms and erects a mining plant at Nelson Creek. But the promise of gold never materialises, and the mine is abandoned within two years.

Sawmilling

By the turn of the 20th century, Moana is flourishing as a centre for the timber trade and sawmills. In fact, logging is happening so quickly, the timber can't be transported quickly enough.

Moana is booming, a newspaper headline declares, and by 1906 the town has four shops, a billiard room, and a grand hall is being built for bachelor balls. By 1918, new homes are being built with hot water and baths and a new road to Greymouth has been completed.

However, the Great Depression of the 1930s brings Moana's industry into rapid decline. By 1932, two-thirds of the mills are closed.

Fishing and Recreation

In 1874, a 21 kilo eel is pulled from Lake Brunner and its reputation as an extraordinary fishing location is born. This reputation is further endowed when silver fish 9 feet (2.74m) long are reported as being seen at the mouth of the Arnold River.

By 1922, a remote hotel named Mitchell Hotel starts to become increasingly popular with day trippers looking to fish.

In 1959, work begins on the lakefront motor camp, jetty, slipway and carpark, as tourism begins to gain pace. By 1960, Christchurch and West Coast families are building holiday homes here to spend time on the water.

Today, the Moana's permanent population stands at about 100 people. However, there are more than 300 holiday homes, and this little West Coast gem is a thriving holiday spot during summer months.
Moana Railway Station
Conveniently located alongside Lake Brunner, Moana Railway Station is in easy walking distance of this quaint little lakeside town.
Find out more about the station, including maps, parking, and amenities and the TranzAlpine timetable.
View Station
Getting to Lake Brunner and Moana
Travel to Lake Brunner by train aboard the heavenly TranzAlpine. You can choose one of our day experiences or book a short escape and discover the magic of Moana.
Explore the West Coast
From idyllic lakes to geological wonders, discover why New Zealand's West Coast is such a spectacular place to visit: