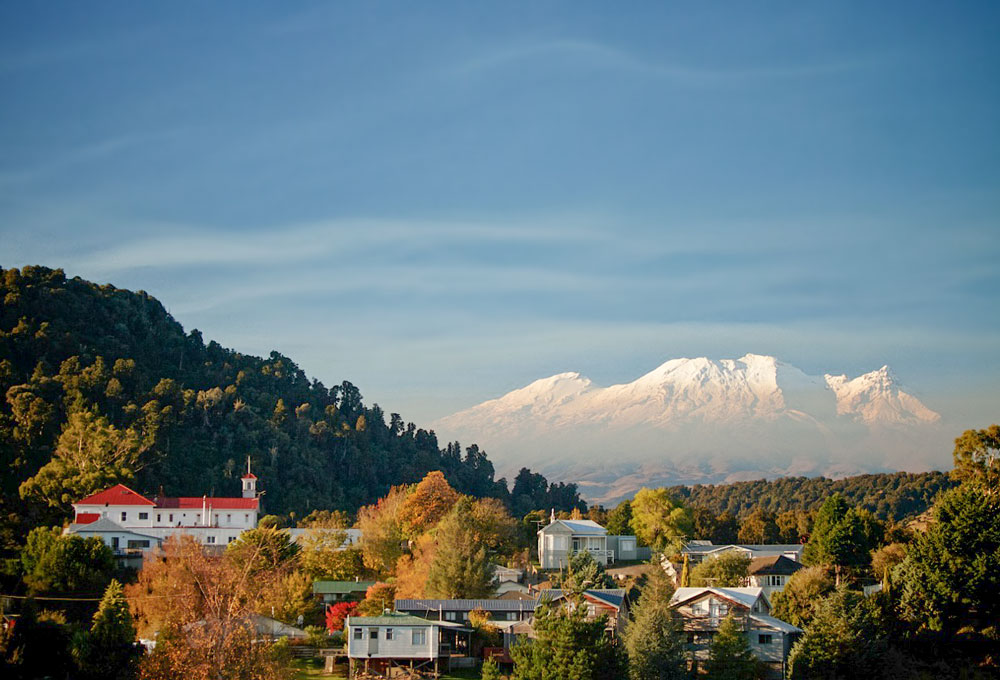 Ohakune - New Zealand's 'Carrot Capital'
Set beneath the imposing crater of Ruapehu, the alpine town of Ohakune comes alive during the winter ski season. During summer, Ohakune has a great reputation for its cycle trails and outdoor pursuits.
Exploring Ohakune
Ohakune is well known in New Zealand as a winter playground. The dramatic slopes of Ruapehu shimmer in the distance from Autumn to Spring, beckoning skiers and snowboarders to come and play. However, the slopes don't open until winter descends, with Whakapapa opening in early June and Turoa in early July. Then, when the ski lifts grind to a halt each evening, the town of Ohakune cranks up, with its bars and restaurants bustling with exhilarated skiers winding down for the night.
During the summer months, Ohakune is also an outdoor playground. Activities include: walking, hiking/bushwalking, mountain biking, canoeing, fishing, horse trekking.
In particular, Ohakune is renowned for its walking and cycle trails, and there is none better than the astonishing Old Coach Road. This route was once a cobbled coach route that linked the incomplete railway from Wellington to Auckland. Passengers wishing to travel from Wellington to Auckland by train would have to disembark and go by coach across this 39km gap. Once the railway was completed, the Old Coach Road was lost to the forest for almost 100 years until local volunteers converted it into one of New Zealand's most popular cycle/walking trails. The route wanders through the foothills of Ruapehu and connects with the 297km Mountains to Sea trail.
Getting to Ohakune by train
Thanks to the hard work of Ohakune's first settlers, getting to Ohakune by train from Wellington and Auckland is as easy as hopping on the Northern Explorer train and hopping off at the centre of town. You can bring all your ski gear, your mountain bike and two suitcases packed with thick winter clothing on the train - we've got plenty of room.
A little bit of history
The history of Ohakune is very close to our hearts. The first settlement was built in the early nineteenth century to house the railway workers who were building the final section of the North Island Main Trunk railway. This work included the incredible "old" Hapuawhenua Viaduct, which is now a centrepiece of the Old Coach Road walking and cycle trail.
Today, you can cruise straight through Ohakune on the Northern Explorer and the new Hapuawhenua Viaduct is one of many superb feats of engineering you will se on your way. However, we recommend you hop off at Ohakune and spend a day or two exploring this historic and outstandingly beautiful area. There is also a fascinating railway museum in Ohakune where you can learn all about it!
Find out more...
To find out more about Ohakune, discover more activities and find accommodation, visit the official Ohakune website: http://www.visitohakune.co.nz