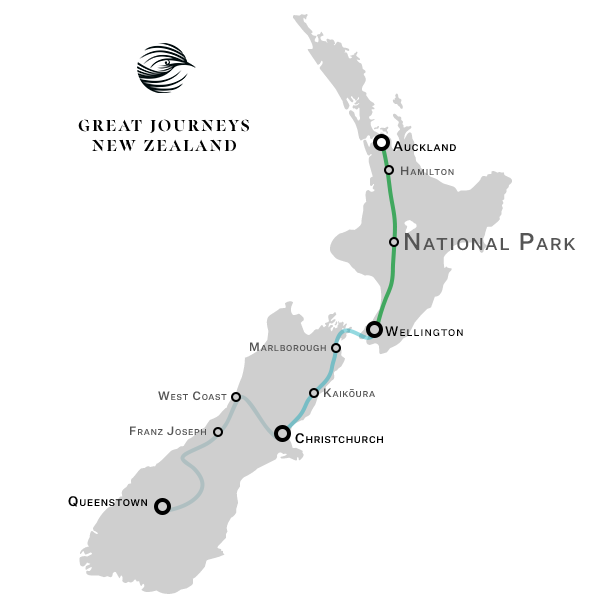 Tongariro National Park
Ignite your sense of wonder and discover an enchanting UNESCO World Heritage Site steeping in culture, legends and geological significance. National Park is situated at the heart of New Zealand's North Island and is home to two enormous volcanoes.
Mystical blue lakes and alpine meadows aren't the only vista that will dazzle your senses. Relish this natural sanctuary as you traverse its paths, exploring by quad bike, foot, gondola skis and more.
A Sacred Connection
Tongariro National Park in New Zealand holds profound spiritual significance from a Māori perspective. The three volcanic peaks of Tongariro, Ngāuruhoe, and Ruapehu are considered sacred and personified ancestors in Māori mythology.
As a tapu (sacred) place, the park connects Māori to their ancestors, serving as a pathway for communication with the gods. The Te Heuheu family, guardians of the land, play a vital role in preserving cultural values.
Tongariro's landscapes and the iconic Tongariro Crossing hold cultural significance, following ancient Māori pathways. This national park is cherished as a link between past, present, and future generations, symbolizing the spiritual essence of Māori culture.
Things to do in National Park
Steaming craters, old lava flows and thermal lakes, you won't be short of breathtaking natural beauty and thrilling adventures that await in Tongariro National Park.
From hiking the iconic Tongariro Alpine Crossing to exploring volcanic landscapes and indulging in cultural experiences, this park offers a myriad of activities that will captivate nature enthusiasts and adventure seekers alike.
More information about Tongariro
Hike into a World of Extreme Beauty

Tongariro National Park is New Zealand's oldest national park and is designated as a dual World Heritage area. This designation recognises National Park as both a place of geological significance for scientific study and of spiritual importance to the Maori culture. For most people, Tongariro National Park is a rare chance to scale an active volcano and sit beside steaming crater lakes amidst a landscape more befitting of Mars.

National Park is home to two volcanoes, Ruapehu and Tongariro. However, it is the most famous peak is Mount Ngauruhoe, which is a large secondary cone of Tongariro. Ngauruhoe's distinctive cone dominates the skyline and is instantly recognisable for the role it is played in the Lord of the Rings films, as Mount Doom!

The most popular tourist activity in National Park is the Tongariro Crossing. This hike can be completed in a day. Alternative, longer routes can take up to three days and include staying in Doc huts.

In winter, the region is also very popular for skiers.

Discover more about National Park Exploring Tongariro National Park by Train

Getting to Tongariro National Park by train is effortless. The Northern Explorer train from Auckland or Wellington stops at National Park six days a week. From the station, it is a very short journey to the nearby hotels and most of them will organise to collect you from the station (be sure to ask when you are booking your accommodation).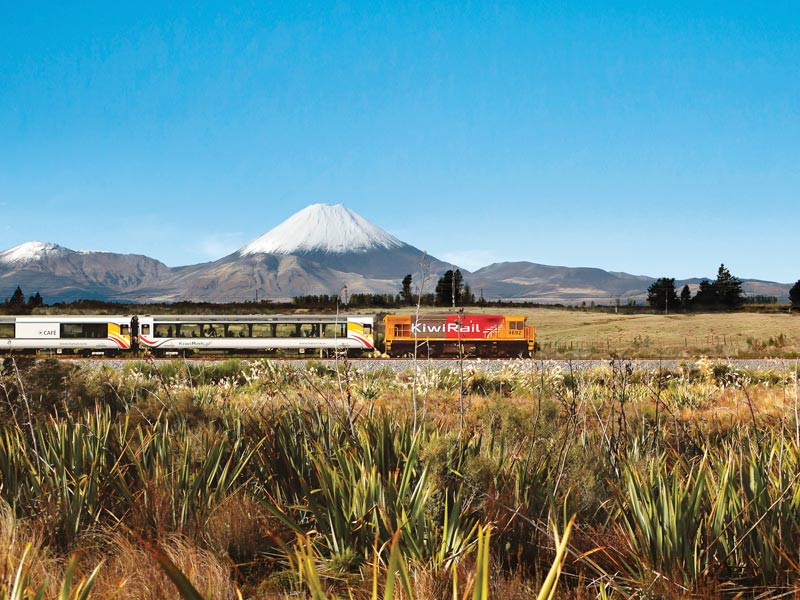 National Park Railway Station
The National Park Railway Station is the gateway to exploration. The station itself holds historical significance, dating back to the early 20th century when it played a pivotal role in facilitating tourism and trade in the area. Today, it stands as a well-preserved heritage building, blending old-world charm with modern amenities.
Find out more about the station.
View Station
Explore the Volcanic Plateau