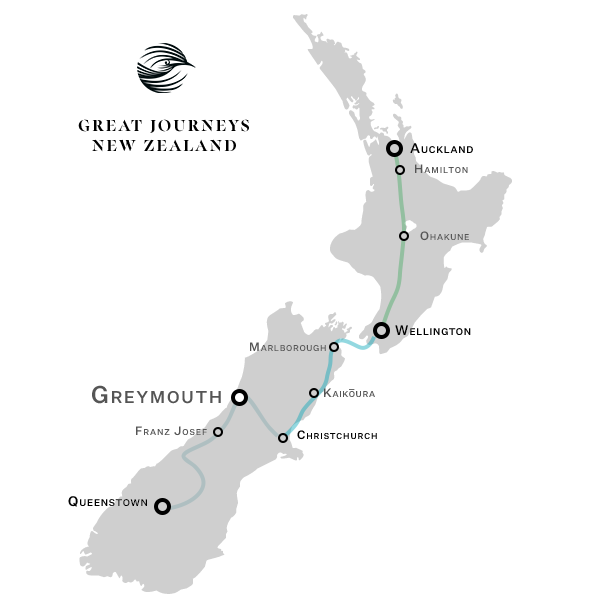 Where is Greymouth?
Greymouth lies at the heart of West Coast region on New Zealand's South Island, approximately 233km west of Christchurch.
With a population of around 14,000 people, Greymouth is the largest town in the West Coast region of New Zealand's South Island.
Surrounded by chiselled cliff tops, wild beaches, and the serene Grey Valley, Greymouth is a beautiful destination in its own right. But it is also the hub for connecting to Christchurch on the east coast via the iconic TranzAlpine Greymouth to Christchurch train.
Gateway to the West Coast
Greymouth has direct road connections with all the West Coast towns, and Queenstown to the south. This makes Greymouth a convenient hub for exploring the West Coast region and beyond, and there are plenty of car rental companies in Greymouth should you wish to venture onwards.
Greymouth is also home to the world-famous TranzAlpine Christchurch to Greymouth train, making it the obvious place to start exploring the West Coast without a car. And with one of New Zealand's most beautiful cycle trails starting here, the West Coast Wilderness trail, you have the perfect excuse to forget about cars altogether. You can hire bikes in Greymouth or bring your bike aboard the TranzAlpine train.
Things to do in Greymouth
With so much beautiful West Coast scenery to enjoy, it's no surprise that Greymouth's best activities are outdoors. So bring some walking shoes or hiking boots with you if you are staying for a night or two.
Gateway to the West Coast
Greymouth is also famous for the Monteith's Brewery, and even if you are just staying in Greymouth for an hour whilst the TranzAlpine train turns around, you should try to visit this iconic brewery for lunch at least.
But if breweries aren't your style, then this charming little town has plenty of cafés to enjoy. And if long nature walks don't appeal, then the walking trail along the river bank is both interesting and informative.
> Greymouth Walks > History & Culture

Shantytown

For an immersive experience of 19-century life on the west coast, take a trip to Shantytown. Modelled on a real-life mining town, Shantytown brings New Zealand Gold Rush history to life. Wander around authentic 1860s shops and homes, then hunt for gold using the age-old panning technique.

Brunner Mine Site

Brush up on your history with a day trip to the Brunner Mine memorial site and walk through the industrial ruins that once produced coal and fire-bricks.

Monteith's Brewery

Cool off or warm up at the renovated Monteith's Brewery, which once served local miners, loggers, and blacksmiths in the mid-1800s.

Established in 1868, Monteith's Brewery has been at the heart of the West Coast community for more than 150 years. Today, it is one of Greymouth's main attractions, with brewery tours telling the story of this West Coast stalwart and demonstrating the brewing process.

> Active & Adventurous

On Yer Bike

For a more adrenaline-packed holiday, sign up for an off-road quad bike or buggy tour with On Yer Bike Adventures. Choose between driving yourself through waterfalls, forests, and mud tracks, or jumping on an ex-military off-road beast to ride through assault courses and steep mud banks.

> Greymouth Restaurants, Pubs & Food

Greymouth Pubs and Dining

1. Speight's Ale House: A classic Kiwi establishment known for its beers and hearty meals.

2. Paroa Hotel Restaurant: A local favourite offering a diverse menu with both international and local dishes.

3. Monteith's Brewing Co.: A must-visit in Greymouth, Monteith's Brewery offers brewery tours where you can learn about the beer-making process and taste their range of craft beers. The onsite restaurant serves meals that perfectly complement their brews.

4. Priya Indian Restaurant: For those craving Indian cuisine, this restaurant provides a range of flavourful dishes.

5. Buccleugh's on High: A fine dining option in Greymouth, known for its elegant dishes and quality service

Greymouth Café

1. DP1 Café

2. Sevenpenny

5. Clocktower Café

4. Blanchfield's Bakery

5. Noah's Ark Backpackers
Top 5 Greymouth Activities
Copthorne Hotel Greymouth
Situated alongside the Grey River at the heart of Greymouth town, this elegant 4-star hotel provides modern stylish comfort with a traditional warm West Coast welcome.
For a blissful escape, choose a Superior Riverview Room with balcony overlooking the Grey River and Tasman Sea. And with on-site restaurant, Jimmy Cook's Kiwi Kitchen, serving delicious locally inspired cuisine night and day, you won't need to go far.
View Hotel
Greymouth History
Why is it called Greymouth?

Greymouth is named after 19-century Governor George Grey and his eponymous Grey River which flows through the town. With the town sitting at the mouth of the Grey River, it is a fairly obvious name to choose.

Before Greymouth the region was centred around the Māori settlement here called Māwhera pā. The name Māwhera means Widespread River.

Establishing Greymouth town

Before Greymouth, the region was centred around Māwhera pā. It was here that Thomas Brunner and Charles Heaphy stayed when first exploring the region and where James Mackay negotiated the land purchase with local Māori chiefs on 21 May 1860.

During the 1860s, Greymouth fell within the Canterbury Province, with the Grey River acting as the boundary to Nelson. By 1868, the west coast became the County of Westland, which then gained provincial status in 1873. Following the abolition of the provinces in 1876, the modern West Coast region was created.

Golden times

West Coast's rise in status came during the gold rushes that began in the Taramakau valley in 1864–65.

Today, the TranzAlpine train travels through this valley on its way to Greymouth. However, you are unlikely to spot any gold. In fact, barely any gold was ever found, and the gold rush left thousands of impoverished immigrants stranded in New Zealand, unable to afford the journey home.

Coal mining

From the 1870s onward, gold mining was replaced with coal mining, and Greymouth became a bustling port for coal and timber exports.

But shipping coal around the coast to Christchurch was laborious, so plans to build a railway were soon underway. Expensive and treacherous, railway construction halted in 1900 at Otira.

German Warships

In 1917, news of a German warship in the Tasman sea looking to intercept allied shipping became a huge concern.

With renewed vigour, the Otira tunnel was completed by 1923 and Greymouth and Christchurch were connected by a few hour's train journey. The dependency on shipping was greatly reduced, and the rise of the railway was underway.

Midland Line

You will almost certainly meet a coal train on the Midland line when you travel on the TranzAlpine train today. And you can step back in time to experience West Coast gold fever at Shantytown - one of Greymouth's leading educational experiences.
Greymouth Railway Station
Conveniently located at the heart of Greymouth town, Greymouth Railway Station is perfectly situated for exploring this historic West Coast town.
Find out more about the station, including maps, parking, and amenities and the TranzAlpine timetable.
View Station
Getting to Greymouth
You can get to Greymouth by train from Christchurch aboard the world-famous TranzAlpine. Either book a train journey directly or choose from one of our many West Coast packages and tours to see more of this wonderful region:
Discover more on the West Coast