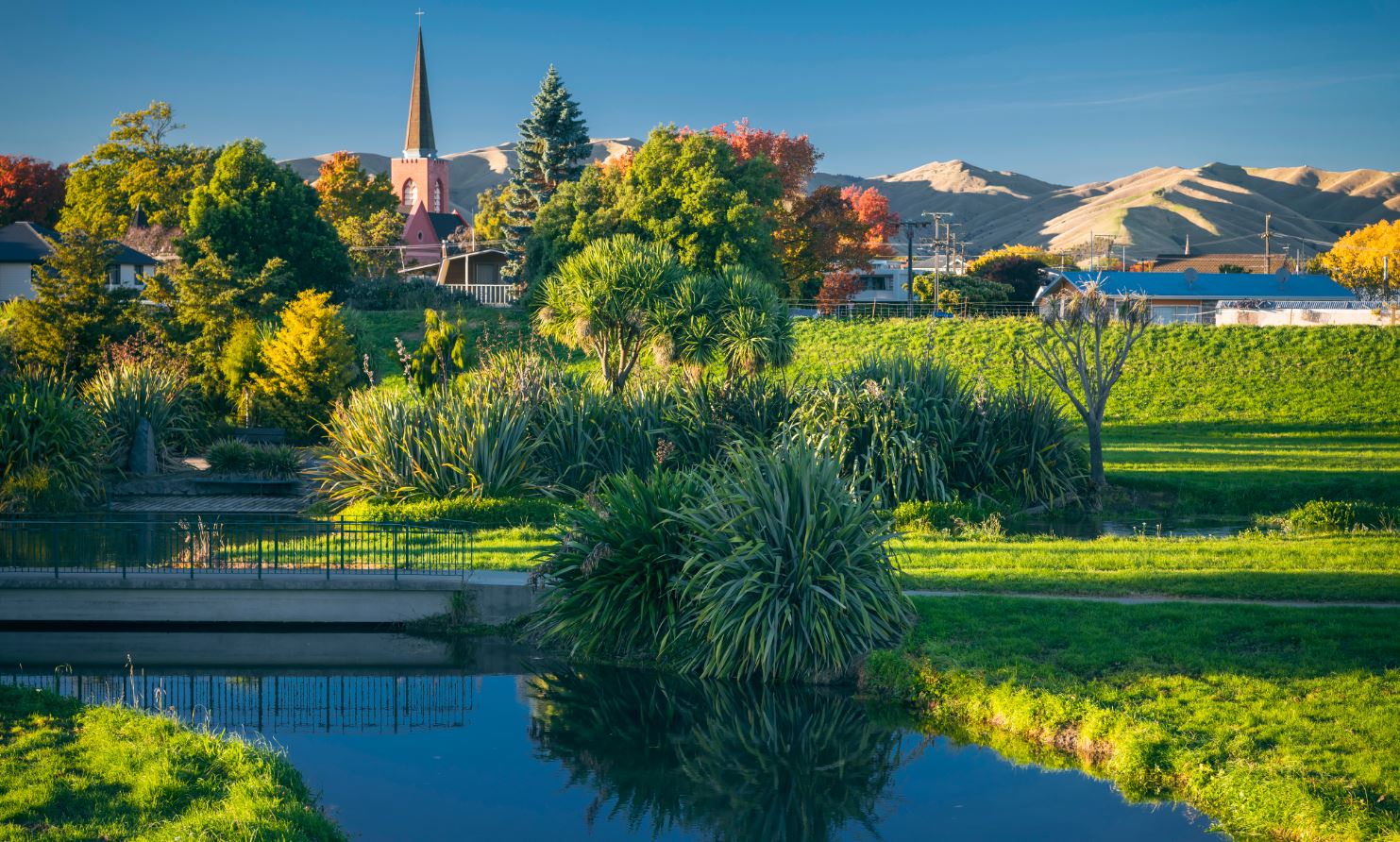 Blenheim - Where the Sauvignon Blanc is Plentiful
Blenheim will welcome you with sunshine, quench your thirst and delight your taste buds. As the producer of 75% of New Zealand's wine, there's no better reason to visit.
2,438 hours of sunshine will keep you warm in Marlborough's largest town. The town is beautifully located with the mountains keeping the heat in and protecting the town from fresh southerly gales. The rows of vines thrive in this environment and produce the majority of New Zealand's Sauvignon Blanc. It's crisp, it's unique, and it is rightly known as some of the world's best wine. Blenheim provides sunrise to sunset photo opportunities that make a great addition to your Coastal Pacific train journey.
This article includes the following section:
Things to do in Blenheim
Food and wine are always on the agenda when stopping in Blenheim. But before you fill your stomach, get out and explore what the town has to offer. To make sure you don't miss out, here are our top picks;
Take a peek into aviation history:
You have more than likely heard of Peter Jackson, famous for writing, directing and producing The Lord of the Rings trilogy. What's not well known, is Peter Jackson's personal collection of WW1 planes and memorabilia on display at The Omaka Aviation Heritage Centre in Blenheim.
A 10-minute drive from the railway station and you will be outside enormous airport hangers, about to enter a world of flight and excitement - an aircraft enthusiast's dream. This, however, is no museum in the traditional sense; don't expect to see rusty old planes and boring displays, but an entry into movie-like moments of history. Travel through time at the Knights of the Sky exhibition and learn the story of the world's only female fighter victors at the Dangerous Skies exhibit. If keeping your feet on the ground still sounds a little dull, take a joyride in the museum's vintage aeroplane tours.
Discover Wither Hills Farm Park:
If you want to experience the real rural New Zealand, Wither Hills Farm Park is one of those hidden gems. The Farm Park is a working farm spread over 1100 hectares of walking tracks and mountain bike routes catering for every level of fitness and ability. The Mount Vernon lookout provides some of the finest vantage points in Marlborough, looking out over Cloudy bay, the Richmond Ranges and Wairau Valley. Pick up a map from the i-SITE opposite the station or look out for the route maps at Redwood Street and Taylor Pass Road.
Walk in the roses at Upton Oaks Garden:
For a more leisurely amble, Upton Oaks Gardens have been recognised as "Gardens of National Significance" and awarded by the NZ Gardens Trust. A private residence 10 minutes drive from the station, this garden has been painstakingly created over the last 30 years by its green-fingered owners Sue and Dave. Take your time as you wander through the 17th-century knot garden, rose walk and vegetable patch. This is the perfect place to take five minutes, relax on a bench and soak in the colours of the season.
Wander the Parks and Reserves:
Marlborough parks are perfect for sunny winter day walks and picnics in the gorgeous summer months. Pollard Park is just a short 30-minute walk from the station and is a showcase of wooded parkland, winding streams and a 9-hole golf course. Parks are plentiful in Blenheim: visit the Japanese-themed Harling Park, relax by the water's edge at Riverside Park or bask in the shadow of the clock tower at Seymour Square.
If you haven't had your fill of natural beauty, Rapaura Springs Garden is a nationally renowned festival for gardeners! It showcases the best of the region with interactive garden workshops, events and tours. The garden festival runs annually in November.
Get your culture fix at Marlborough Museum:
Located in Brayshaw Heritage Park, the Marlborough Museum celebrates the story of Marlborough. The Te Pokohiwi – Wairau Bar exhibition holds stories of significant Maori history and life in the 13th century. Of course, it wouldn't be a Marlborough museum without a permanent wine exhibition, taking you on a journey of wine memorabilia and winemaking history.
Spot the wildlife at Wairau Lagoon:
Approximately 7km south of Blenheim is the mouth of the Wairau river where over the past 6500 years lagoons have formed. The 3 hour Wairau Lagoon loop track will allow you to explore the diverse wildlife of the unique salt marsh and the old eroded remains of the SS Waverley. If you are keen to learn more about this special place take a guided tour, where you will hear about the settlers, the whalers and the arrival of the Europeans in the fascinating narratives of the local people.
Be a part of Kiwi culture at Marlborough wine and food festival:
One of the annual highlights of visiting Blenheim is attending the longest standing wine and food festival – Marlborough Wine and Food Festival. February is the month to sample world-class wines and delightful local cuisine at one of the Marlborough's most charming vineyards – Brancott Estate. Just a 15 minute drive from Marlborough train station, this is an event to put in your diary now.
Ride the Coastal Pacific along the coastline
Sit back and relax on the scenic Coastal Pacific train. The Coastal Pacific breezes past Blenheim and Kaikoura from the picturesque coastal town of Picton to the charming city of Christchurch. From mountain ranges to the rugged coastline the journey will be just as unforgettable as the destination.
Eating out in Blenheim
Discover why the world loves Marlborough wine by enjoying it with some local cuisine. Blenheim is one of those places that still has a remoteness to it, which allows us to tell you all the local secrets - like the best place to get a pie.
The Burleigh lunch bar lays its claim on the red sign above the door - "World famous pies, world-famous status". They wouldn't be wrong! Trip advisor rates The Burleigh as one of the best places to eat in Blenheim, and if you are looking for something to complement your day out it doesn't get more kiwi than this. The steak and blue cheese, pork belly and jerk chicken are the most popular on the menu but don't worry if you can't choose one, pick two, and you can walk it off on the leisurely 40 minute stroll back to the station.
You'll be spoilt for choice when it comes to eating out. Many options line the main streets of Blenheim with kiwi cafes and the cultural pleasures of fine restaurants typical of a big city; Gramado's, Arbour and Dodson Street Beer Garden to name a few!
If you are visiting on the weekend, don't miss a chance to visit the Marlborough Farmers market, held every Sunday morning. This is the place to taste the freshness of the culinary delights that Marlborough has to offer. Everything is locally grown and sourced, so you are safe in the hands of local, sustainable farmers who know how to do food. From the finest cheeses to tasty kombucha and locally roasted coffee, this is a foodie's delight.
Wine lovers, we have the perfect lunch solution for you, wine and dine at one of the local vineyards. Sit back and let the experts pair a wine with your choice of local produce to create a match made in Blenheim. The Marlborough wine trail is set up so you can find a winery closest to your location or ones grouped close together for an excellent biking experience.
Be prepared to expand your waistline, as no trip to Blenheim would be complete without a visit to Makana Confections. Perfectly positioned in the centre of the Marlborough wine trail, here you have the opportunity to sit back and watch hand-made chocolate creations come to life- you might even get to taste some samples. What's more, you can enjoy them guilt free as all treats are made with no artificial flavourings, colourings or preservatives.
Where to Stay
Blenheim has a vast range of options when it comes to accommodation, so after you have had your fill of food and wine, there's bound to be a comfy place to rest your head that suits your budget. Summer is peak season in Blenheim and is also fruit picking season, so make sure you get your first choice by booking in advance.
Blenheim Top 10 holiday park is 10 minutes from your stop on the Coastal Pacific train and offers options from self-contained units to park motels. Easily located so you can indulge in all that Blenheim has to offer, the friendly reception staff can also help you book all tours and activities.
If you are looking for something special to continue your luxury weekend, Chateau Marlborough is a convenient walk from the station. The 5-star hotel overlooking Seymour Square Gardens is known for its exquisite attention to detail and impeccable service.
Blenheim offers retreats, bed and breakfast, apartments and more, all set with the stunning scenery of Wine County.
Getting around Blenheim
The Coastal Pacific train stops at Blenheim train station in central Blenheim, a great location to start your Marlborough escapade.
Public Transport:
Most of the central area is best explored by foot, with cafés, galleries and parks easily accessible from the train station. Make sure to go into the i-SITE to get a map of the town.
You can also travel around the region with Hop on Hop off who pick up at the i-SITE and travel around the region. Alternatively, if you are looking to stay around Blenheim, the Blenheim Bus Service operates from Monday to Saturday.
Car rental:
If you are staying a little longer, much of Marlborough's stunning landscape is accessible by vehicle, with brilliant scenic drives taking you to a range of towns, valleys, hills, mountains and coastlines. Rent a car or campervan from any well-known brands, such as Hertz, to explore the region before continuing your Coastal Pacific journey.
Marlborough Airport:
7kms west of Blenheim is Marlborough Airport. Accessible by taxi, the airport offers domestic flights and scenic tours. To get a brilliant view of Marlborough's landscapes, continue your journey to Picton and travel with Interislander, "one of the world's most beautiful ferry journeys," across to the North Island.
A little bit of History
Named "The Beaver" by early European settlers due to its regular flooding, Blenheim was originally a small farming-related community that turned into a booming wine industry giant.
In 1855, an 8.2 earthquake deepened the Opawa River making it navigable for ships and allowing Blenheim to trade profitably. As Blenheim's growth increased, it took the title of Marlborough's capital in 1865.
The flooding wasn't all bad news, as the soil now provides the ideal environment for growing grapes for wine, and has made Blenheim a focal point in wine growing. Internationally known for its Sauvignon Blanc, Blenheim now boasts 65 wineries and 290 grape growers of Sauv, Chardonnay, Riesling, Pinot Noir, Pinot Gris and Gewurztraminer.