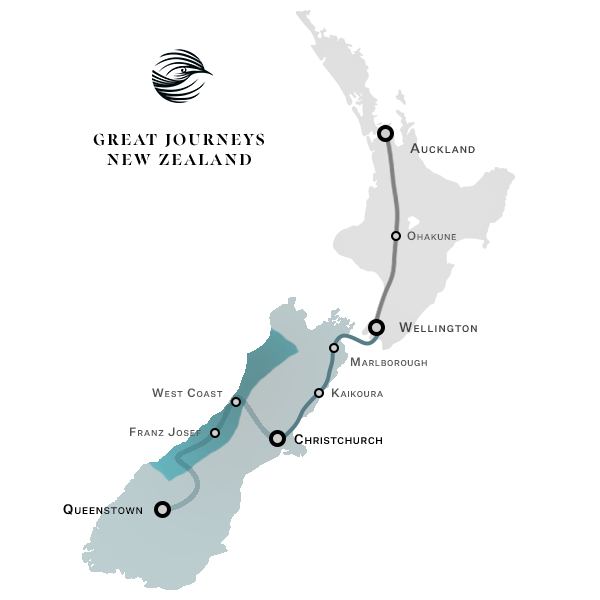 Where is the West Coast?
New Zealand's West Coast region sits between the foothills of the Southern Alps and the Tasman Sea midway along the South Island.
Relentlessly carved and sculpted by the elements, this wildest of coastlines is renowned for its geological splendour. A place where precious gemstones and minerals are forged deep underground from colliding tectonic plates. A land shaped by icy glaciers that descend from the mountains, grinding vast valleys into the rock.
This is a world where the power and grandeur of nature is on show—and it is an awesome show.
Our Precious West Coast
Rich in minerals and natural resources, including gemstones, coal, gold, and oil, the West Coast has attracted settlers and fortune seekers since the 10th century, beginning with a Polynesian explorer named Kahue who discovered pounamu here (jade).
Pounamu remains hugely important to the West Coast because it is the only region where it can be found. And if you are looking for an authentic Māori carving, or wish to try carving your own, then this is the place to come.
At the other end of the scale, the search for gold and oil flopped dramatically, with prospectors finding nothing more than poverty. Many buildings and mines from the gold rush have been restored as museums to tell their story.
Top places to visit on the West Coast
From quaint little towns to vibrant coastal hotspots, the West Coast region features some of the best places to visit in New Zealand
view all
Things to do on the West Coast
With so much stunning scenery and extraordinary geology, it's no surprise that nature gets top billing. From glaciers and rainforests to gold and greenstone, there is plenty to entertain you on the West Coast.
West Coast Natural Attractions West Coast History & Culture

Shantytown

Vividly depicting the pioneering spirit and gold rush era, Shantytown offers a special glimpse into the past and showcases artefacts from the late 19th and early 20th centuries. With its charming wooden structures, vintage steam train rides, and interactive exhibits, this immersive experience allows guests to be captivated by old tales of the gold miners, experience the challenges and triumphs of that bygone era.

Ross

In the late 19th century, Ross thrived as the vibrant heart of one of New Zealand's richest alluvial goldfields. Its bustling streets echoed with the excitement of extensive underground mining and energetic sluicing claims. Today, Ross welcomes adventure seeks as they embark along the West Coast Wilderness Cycle Trail.

Brunner Mine

Underground operations and mining infrastructure sits right underfoot of a tropical landscape. At its heyday in the 19th century, Brunner Mine stood as a bustling centre of coal mining activity. Today, the site welcomes visitors to explore its historical significance, providing insights into the challenging yet transformative coal mining industry of yesteryears.

West Coast Walks & Hikes West Coast Active & Adventurous

West Coast Cycling

If cycling interests you, the West Coast offers a range of thrilling cycle adventures. While the Old Ghost Road features mountain views, wild valleys and riveting history, the West Coast Wilderness trail explores rich gold mining history, oceans, and rainforests. The Paparoa Track is also a great option if you're interested in traversing alpine tops, limestone landscapes and subtropical forests.

West Coast Franz & Fox Glacier Heli Tour

Soar high above the breathtaking landscapes as a scenic helicopter flight elevates you to the awe-inspiring Franz Josef and Fox Glaciers. Witness the immense beauty of these icy giants from an unparalleled vantage point. Keep an eye out for glistening blue ice formations, cascading waterfalls, and rugged mountain peaks as the experienced pilot guides you through this spectacular glacial wonderland.

West Coast Rafting

Glow-worms, water-sculpted canyons and spectacular rock formations – rafting on the West Coast involves an unforgettable journey filled with heart-pounding excitement. Navigate the untamed rivers that carve through the rugged wilderness, surrounded by lush rainforests and dramatic landscapes. Along your undeniable adventure, witness stalactites, stalagmites within the ancient cave system.

West Coast Sky Diving

Freefall amidst a breathtaking backdrop of majestic mountains, sprawling glaciers, picturesque lakes, winding rivers, and sweeping ocean vistas. The West Coast's skydive is the highest in New Zealand at 20,000ft.

West Coast Caving

Delve into a labyrinth of ancient rock formations, hidden chambers, and mesmerising glowworm displays as you navigate through the subterranean wonders.

Whether you choose to join a guided tour or venture on your own, the region offers a multitude of fascinating caves to discover. With guided tours, experienced cave experts will lead the way, providing insightful commentary and ensuring your safety. Alternatively, for the more adventurous souls, self-guided caving allows for personal exploration, providing an intimate connection with the mystical underworld.

Set off from Charleston, or Karamea.

West Coast River Kayaking and Stand Up Paddle Boarding

Explore the Jurassic-like jungle along the Pororari River. Paddle along the meandering waters, surrounded by lush native forests and towering limestone cliffs, immersing yourself in the serenity of this pristine natural environment.

West Coast Surfing

Unleash your spirit of adventure and ride the waves on the wild West Coast, a surfers' paradise with a spectacular array of surf spots.

Start in Punakaiki, known for its Pancake Rocks and a high-energy beach break that delivers consistent surf. A journey south takes you to Nine Mile Beach, a remote sandy stretch with reliable surf and solitude. Further down the coast, Greymouth offers several surf spots, including Cobden Beach and Rapahoe, with powerful waves breaking over a sandbar.

Don't miss Hokitika, a scenic gem offering both beach and river mouth surfing, and loved for its breathtaking sunsets. Venture to remote Bruce Bay for an off-the-beaten-path surf experience, where the Southern Alps meet the Tasman Sea.

For advanced surfers, the reef breaks at Jackson Bay promise an exhilarating challenge. Experience the thrill of surfing the South Island's West Coast, where every wave brings you closer to nature's untamed beauty.

West Coast Hot Pools

Set off on a relaxation journey to Maruia Hot Springs, located in the alpine Lewis Pass National Reserve, where you can soak in the outdoor thermal pools surrounded by majestic forest-clad mountains.

In Waiho, relax and unwind in the soothing comfort of fresh warm water and aromatic wood smoke at Waiho Hot Tubs. Enjoy private tubs, nestled in a lush rainforest setting.

For an off-the-beaten-path experience, head to the remote Welcome Flat Hot Pools on the Copland Track, where a challenging hike rewards you with secluded hot pools and stunning alpine views.

West Coast Beaches

Wild and untamed, the West Coast's beaches are unlike anything in all of New Zealand. The beaches on the West Coast are rugged, characterised by crashing waves, black sand, and a dramatic backdrop of cliffs, forests, and mountains.

Punakaiki (Pancake Rocks) Beach: This beach is best known for the Pancake Rocks and Blowholes, a unique limestone formation that's a must-see. The beach itself is rugged and beautiful, with roaring waves and stunning sunsets.

Greymouth Beach: Just a few minutes' walk from the town center, this beach is known for its stunning sunsets and driftwood-strewn sand. The beach also overlooks the Tasman Sea, making it a perfect spot for a leisurely stroll.

Hokitika Beach: Famous for its sign made from driftwood, Hokitika Beach is a popular spot to watch the sunset. The beach is also known for its jade (pounamu) and gold, which you can try your hand at finding.

Gillespies Beach: Located near Fox Glacier, Gillespies Beach offers a unique beach experience. Here, you can explore a historic cemetery, old gold mining relics, and even a seal colony, all against the stunning backdrop of snow-capped mountains.

Okarito Beach: This remote beach offers stunning views of the Southern Alps and is home to the rare Okarito Kiwi. It's also near the Okarito Lagoon, New Zealand's largest unmodified wetland, which is a great spot for birdwatching.

Charleston Beach: Charleston, located south of Westport, offers a unique beach experience with a historical twist. The area is known for its underground and underwater cave systems, making it a great place for guided cave tours. Charleston was a bustling gold rush town in the 1860s, and visitors can explore its fascinating history.

Mokihinui Beach: Situated north of Westport, Mokihinui Beach is known for its serene beauty. It's an idyllic place to enjoy fishing, bird watching, or simply relax amidst the natural surroundings. The Mokihinui River nearby is a renowned spot for fishing and whitebaiting.

Hector Beach: Hector is a small settlement known for its black sand beach, panoramic views, and strong ties to coal mining history. It's also home to the Hector's dolphin, one of the smallest and rarest marine dolphins, which can occasionally be seen from the beach.

Motukiekie Beach: Known among photographers for its striking sea stacks and starfish colonies, Motukiekie Beach is situated between Greymouth and Punakaiki. The best time to visit is during a low-tide at sunset, when the sea stacks and tidal pools create a truly surreal landscape.
Top 10 West Coast attractions
If you want to see the best of the West Coast without spending months in the wilderness, we recommend the following top West Coast activities:
Glacier Country
New Zealand's West Coast glaciers provide a unique ecosystem that has supported life on the West Coast since the last ice age.
The glacial environment is uniquely accessible on the West Coast because Fox and Franz Joseph glaciers descend into the temperate rainforest. This means you can walk from your hotel to the face of a glacier without even a pair of hiking boots.
However, to explore the unique glacier environment, with its crevasses, ice caves, and seracs, you need to take a guided tour or Heli-tour.
Rich Rainforests
New Zealand's West Coast region provides the perfect climate for lush evergreen rainforest to flourish.
Stretching from Kahurangi National Park in the north to Tai Poutini National Park in the south, there are plenty of opportunities to discover the unique birdlife, flora, and aromas of the rainforest. And you don't have to go far. A simple hour-long walk on a well-maintained trail will take you deep into thick jungle-like forest, a world away from civilisation. And for a truly immersive rainforest experience, sleep amidst the trees at Te Waonui Forest Retreat.
West Coast Short Breaks
Escape by rail and discover the stunning West Coast aboard the TranzAlpine train with these short breaks and packages:
West Coast Rail Tours
Discover more on a West Coast tour, where we will show you the best of this spectacular region on a scenic guided rail tour starting nationwide:
West Coast Accommodation
With immaculate beachside apartments, luxurious rainforest retreats, and rustic lakeside lodgings to choose from, you won't struggle to find your perfect West Coast accommodation.
But with each town having its own unique style, you might find it best to plan your West Coast itinerary around the style of accommodation you are looking for and then plan your daytime activities accordingly.
Camping & Outdoors

Recommended Camp Sites

You won't run out of fantastic camping locations on the West Coast as there seems to be scenic landscapes around every bend. However, there are a few stand-outs. For a rustic, untouched experience, discover Kohaihai Conservation Camp. If you're after a more family-friendly campground, then Gentle Annie Seaside Accommodation and Camp Ground is right up your alley.

Further down the coast, Lake Kaniere Campsite is a great choice for keen fishermen or for those who enjoy lake-side serenity. If you prefer the ocean, head to Gillespie Beach Campsite to discover an old gold mining settlement and seal colony.

Serene Hotels

Recommended Serene Hotels

Nature Retreats & Lodges

Recommended Nature Retreats & Lodges

The West Coast is bursting with character, so what better way to embody your experience than staying somewhere just as special as the region?

For a tropical experience, open the garden doors and enter a private, peaceful paradise at Indo Kiwi in Fox River. Or perhaps you would prefer a hillside retreat with coastal views at Sva's? For a glacial retreat – discover the alpine lodge of Kahere Retreat.

Boutique and Beautiful

Recommended Boutiques

From rainforest to ocean front, there are boutique accommodation's a-plenty on the West Coast so make sure to do your own research before you set off! But if you're looking for a wee tip, here are some of our favourites. Hokitika Fire Station Boutique Accommodation is steeping with character and history if you're looking for a unique stay.

For a touch of luxury, why not head to Hokitika to discover the comforts of Rimu Lodge. To be one with nature, head back up north to discover Rough & Tumble along the Old Ghost Road.

Glamping

West Coast Recommended Glamping Locations

Wake up to the symphony of native birds, take in the stunning coastal vistas and, when the day ends, gaze at the starry Southern skies from your cosy canvas haven. Perfect for adventurers seeking a unique escape, glamping on the West Coast offers a chance to reconnect with nature, without sacrificing comfort.

Here are some of our recommended glamping locations:
Top 5 West Coast Hotels
From beach front boutiques to rainforest retreats, these are the five best hotels on the West Coast:
Read more...
Find out more about the West Coast and everything it has to offer by reading our blogs:
View All