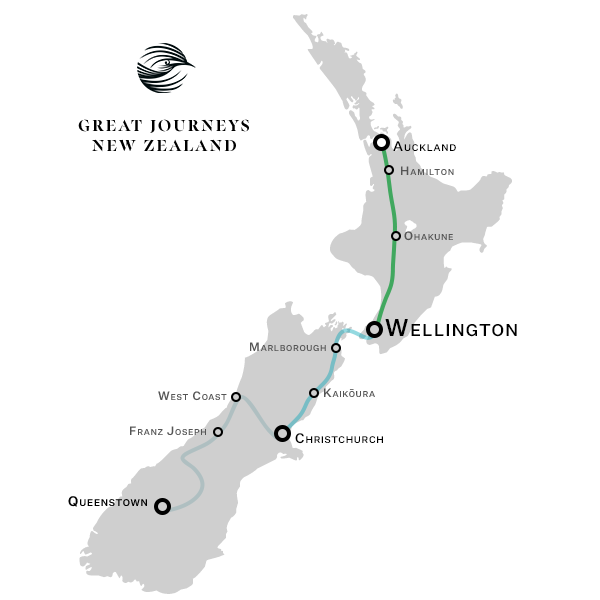 Welcome to Wellington, the 'Vibrant Heart of New Zealand'
Discover a city where creativity thrives, stunning landscapes surround you, and a vibrant culture awaits your exploration. Welcome to Wellington, the capital city of New Zealand, where breathtaking experiences and captivating moments await at every turn.
Nestled between rolling hills and a picturesque harbor, Wellington is a city that effortlessly blends nature's beauty with urban sophistication.
Where is Wellington?
Located on the southern tip of New Zealand's North Island, Wellington is the world's southernmost capital city. And, with a population of around 212,700, it is also one of the world's smallest capitals (one of many reasons why Lonely Planet named Wellington the 'Coolest little capital in the world').
Travelwise, Wellington is conveniently located at the heart of New Zealand's two main islands, with Cape Reinga 1048km to the north and Invercargill 994km to the south (via the 98km Interislander ferry to the South Island).
Things to do in Wellington
Nestled around a sparkling natural harbour amidst beautiful rolling hills, New Zealand's capital city is simply unforgettable.
Best-known for its thriving film industry, beautiful public spaces, down-to-earth people and wild weather, there is an endless list of fun things to do in Wellington.
Be sure to explore the harbour, where you'll find some of the city's top restaurants and a perfect spot for people-watching. In the streets of Te Aro, slow down for the day to drift between boutique shops and European style cafés. At night, visit one of the vibrant bars or eclectic restaurants selling cuisine from around the world.
Wellington Activities and Attractions
When you look at its natural landscape, it's no surprise that Wellington is filled with adventure. Surrounded by green space, rolling hills, and mountains, there are many natural attractions. Head to the suburb of Khandallah and hike up Mount Kaukau.
On one side, you'll find expansive views of the city. On the other, you'll gaze into the distance towards the stunning Remutaka and Tararua mountain ranges.
Tīeke, hihi, little spotted kiwi and tuatara

Wellington's impressive 500-acre Zealandia eco-sanctuary is also located amongst the hills above the city. Set around an idyllic lake, Zealandia is protected by an 8.6km perimeter fence. Inside, you'll find endangered species, including tīeke, hihi, little spotted kiwi and tuatara, all thriving in their natural environment. Other successes include tūī, kākā and kererū, which are now commonly found around Wellington thanks to Zealandia's breeding programme.

Zealandia can be reached easily on foot from the city centre. Simply catch another of Wellington's famous attractions, the Wellington Cable Car, then catch the shuttle bus or walk to the Zealandia sanctuary.

Wellington's 19th-century Funicular

The Cable Car, Wellington's 19th-century funicular, ascends Kelburn hill from Lambton Quay to the top of the Wellington Botanic Gardens – another great Wellington attraction. At the top, you'll find spectacular views of Wellington, along with the free Cable Car Museum and the Carter Observatory. Catching the Cable Car to the top and then walking back down to the city through the Botanic Garden is an excellent way to spend a day.

Lord of the Rings

New Zealand has solidified itself as a movie-making destination globally with The Lord of the Rings films. Make the most of your trip by visiting Weta Workshop, the winner of several Academy Awards for its work on Lord of the Rings, Avatar and King Kong. Weta Cave is one of the top attractions in Wellington. Get ready to immerse yourself in movie-making magic.

Discover Wellington CBD

Make a stop at Cuba Street's Bucket Fountain, one of Wellington's most famous landmarks. Built in 1969, it marked the celebration of the permanent pedestrianisation of Cuba Street. Don't get too close, though, this unruly fountain is designed to splash!

Continue your stroll down Wellington's trendiest street, filled with quirky boutiques, ice cream shops, and tasty restaurants. You can spend hours window shopping Cuba Street's unique stores!

On a summer's day, nothing beats a visit to Oriental Bay. Curl up on the soft sand and look out to the turquoise waters, with the city's skyscrapers towering to the left. Here you'll find the Carter Fountain standing in the water, first introduced to Oriental Bay in 1973.

Rent one of the iconic Crocodile Bikes and pedal your way along Wellington's waterfront - you'll find groups of adults enjoying this wacky exercise just as much as kids.

After all your sightseeing, visit the famous Zany Zeus cheese shop and sample the most coveted halloumi sandwich in all of Wellington.

Free things to do in Wellington

Weta Cave tours are iconic, ranking highly on the list of top tourist activities in New Zealand. However, most people don't know that you can actually enter for free! Browse the mini-museum with no entry fee.

Hot tip: Children under 5 get free entry to paid tours

One of the best free things to do in Wellington is a leisurely stroll through the Wellington Botanic Gardens. Walk through the vibrant rose gardens and head into Begonia House. The Botanic Gardens glasshouse is overflowing with vivid tropical plants and flowers. You'll forget you're in the city when pottering around these picturesque gardens.

The national museum, Te Papa Tongarewa, tells the story of our land in exceptional style and has an astonishing World War I exhibition. Created in partnership with Weta Workshops, 'Gallipoli: The Scale of Our War' exhibition features unerringly realistic larger-than-life models of real war heroes in action alongside the historical artefacts and letters from the day. A must-see when visiting Wellington – and it's absolutely free.

Have a picnic at Oriental Bay and enjoy the slow pace of people-watching along the sparkling waterfront. Locals flock to the waterfront on a blue sky day to take in the lovely views.

Window-shop at the unique boutiques along Cuba Street. Brimming with trendy vintage stores, homeware boutiques, and gift shops, Cuba Street is an integral part of the Wellington scene.

Getting Around in Wellington

Wellington is conveniently compact, making it easy to walk from A to B. Most places within Wellington City are just a short walk away. Walk from Wellington's Railway Station to Oriental Bay in just 30 minutes. The city is well connected with several bus routes and trains running from the central train station.

A fun thing to do in Wellington is to hire an electric scooter and ride along the waterfront. If you intend to explore Wellington's southern bays or neighbouring towns, you might find it easier to hire a car. The city has several car rental shops to choose from, keep your eyes peeled for the best deal.

Dining in Wellington

Wellington is the culinary and coffee capital of New Zealand. With more bars and restaurants per capita than New York City, it's a foodies' paradise.

Home of The Flat White, the coffee scene in Wellington is thriving. Cafés are always bursting with people getting their caffeine fix. Check out the famous Wellington roasteries which are among the best in New Zealand; Havana Coffee, Peoples and Caffe L'affare. You can even buy a bag of your favourite beans as a souvenir.

Visit one of the many cafés at the weekend for a typical brunch of smashed avocado on toast. Don't forget to visit Fidel's café, somewhat of a Wellington institution. Fidel's has a brunch menu to die for, and the coffee is pretty tasty too!

From cheap eats to fine dining, Wellington has it all. Eat and drink your way through the city like a local.

Cuba Street is packed with hidden gems the locals flock to at mealtimes. Take your pick from authentic Malaysian, Thai, Japanese, or Chinese cuisine. Many of the restaurants are 'BYO' and allow you to bring your own bottle of wine for a small fee. So do as the locals do and enjoy!

If you want a taste of Wellington's finest, we recommend checking out Charley Noble, Rita or Logan Brown - all guaranteed to tickle your tastebuds.
Where to Stay in Wellington
Whatever your budget, there are plenty of options to help you find your perfect Wellington accommodation.
For a more luxurious or extravagant stay in the city, check into one of Wellington's vibrant boutique hotels. Naumi Studio is located on Wellington's trendy Cuba Street. Discover the stunning interiors and displays of local artists' works. QT Wellington is also a favourite for a glamourous stay in the city. Airbnb is another wonderful option for finding local Wellington accommodation and live like a local.
Wellington History
Wellington's rich history has shaped its vibrant character. From its Maori settlements to becoming the political centre, Wellington's past is intertwined with significant events. Devastating earthquakes led to the city's rebuilding, while iconic landmarks like the Beehive and Wellington Cable Car showcase its architectural heritage. Today, Wellington blends its historical narrative with a thriving arts scene, festivals, and natural beauty, offering visitors a captivating destination where past and present converge.
The first permanent British settlement of New Zealand

Wellington became the first permanent British settlement of New Zealand in 1840. However, Wellington hasn't always been the capital of New Zealand. In fact, in 1865, Wellington replaced Auckland to become the new capital city of New Zealand. This provided the city with a promising future and revolutionised the area with Parliament buildings and railway lines.

The Wellington Museum is a great activity in Wellington to learn more about the city's rich history. Located in the centre of the city in a heritage building, it houses stories of the city's past and is definitely worth a visit.

A Funicular Connection

The Wellington Cable Car is a well-known tourist attraction. Initially opened in 1902, the funicular connected residents of Kelburn to the city. You can still catch the cable car up the steep hills to Kelburn and take a leisurely stroll back down the hill through the Botanical Gardens.

The Father of Wellington

The statue of John Plimmer (1812-1905) and his dog, Fritz, was voted the most popular public artwork in the city. It captures John Plimmer and Fritz walking towards Wellington's Lambton Quay. John Plimmer, labelled the Father of Wellington, originally worked as a tradesman making huge contributions to Wellington's political and commercial development.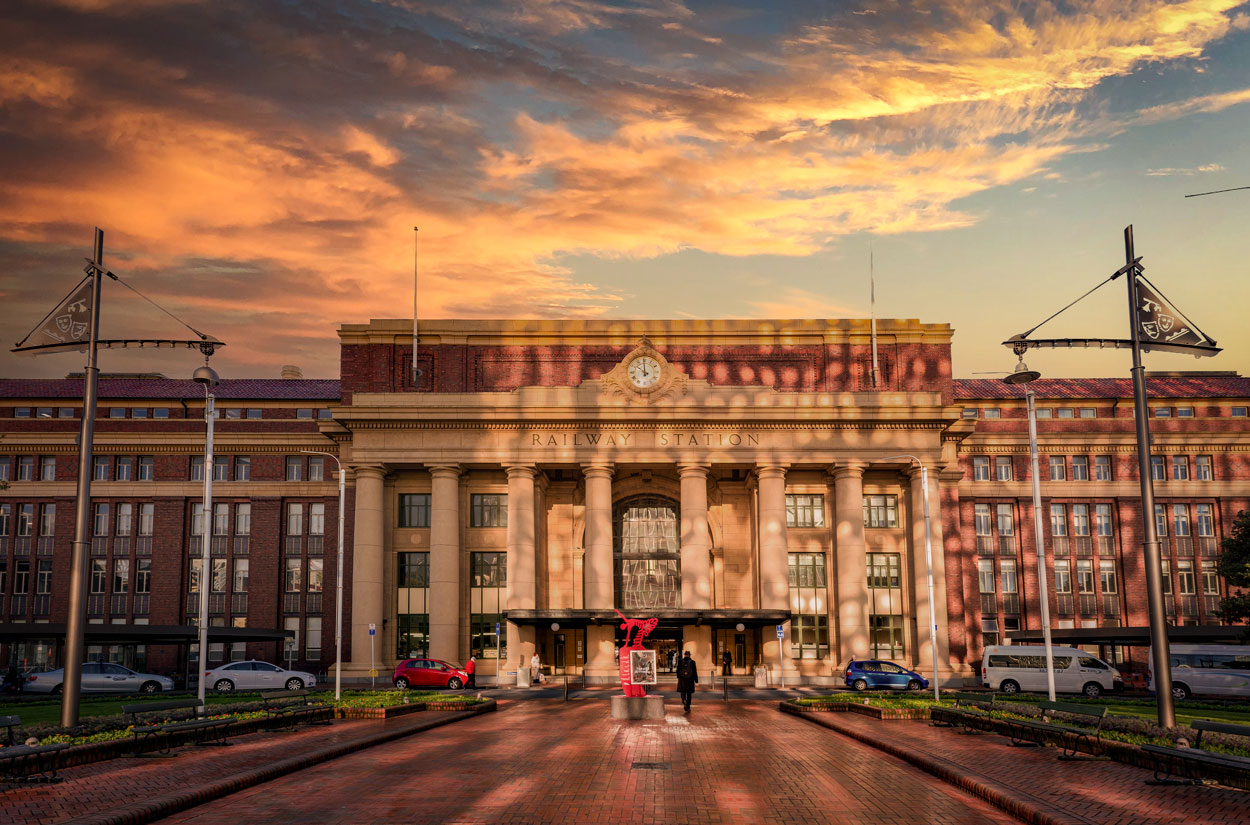 Wellington Railway Station
Wellington Railway Station, located in the heart of the city, is a historic transportation hub that serves as a gateway to the capital and beyond.
With its iconic architecture and bustling atmosphere, the station offers a convenient and picturesque starting point for exploring Wellington and its surrounding regions.
View Station
Discover NZ's capital by train