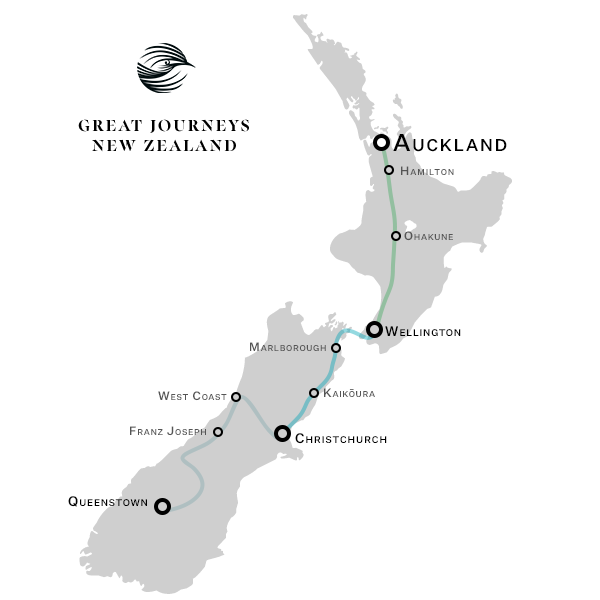 Discover Auckland, 'City of Sails'
Nicknamed 'The City of Sails' due to its 3,702 km of coastline, Auckland is the perfect city to set off from aboard the Northern Explorer train.
Surrounded by picturesque bays, enjoy this multi-cultural hub as you wander the streets and discover the perfect blend of art galleries, museums, restaurants, endless shopping. Steeped in Maori and Pacific Island culture, this will be just the beginning of your North Island adventure. So whether you're a nature lover, history buff, adrenalin junkie or shopaholic, Auckland won't leave you short of things to do.
A Multi-Cultural Hub
Overflowing with food, wine, music, art and culture, Auckland is the perfect destination, or set off point for your great journey. The city embraces a rich tapestry of cultures from around the world, creating a unique blend of traditions, cuisines, and experiences.
Once the capital city of New Zealand, Auckland rapidly grew in the 1800s due to the gold rush and now is a thriving metropolis. Today the city serves as an economic powerhouse, with a diverse range of industries including finance, IT, creative arts, and tourism. With a range of outdoor and indoor activities, it is now renowned for its picturesque landscapes, iconic landmarks like the Sky Tower, and its reputation as a gateway to exploring New Zealand's natural wonders.
Things to do in Auckland
Where will your adventure take you? With so much to do and see in Auckland, you may not know where to start.
Stretch your legs and embark on a hike up the dormant volcanic cones like Mount Eden, or explore the lush landscapes of the Waitakere Ranges.
Or maybe culture takes your fancy? A visit to the Auckland War Memorial Museum will provide you with an insight into New Zealand's history and Māori culture.
Auckland's Must-Do Activities
Auckland offers a multitude of must-do activities that cater to all interests and preferences.
From scaling the iconic Sky Tower for breathtaking views to exploring the vibrant waterfront precinct of Wynyard Quarter. Be immersed in the rich Maori culture at the Auckland War Memorial Museum or embark on a ferry ride to the stunning Waiheke Island for wine tasting.
Auckland presents an array of unforgettable experiences that will leave you with lasting memories.
Glimpse into New Zealand's history

Auckland War Memorial Museum is an outstanding historical building which sits majestically on top of the volcanic cone of Auckland's Domain, Parnell. It's a great introduction to the story of New Zealand; its land, people, and culture. Highlights include an interactive volcano exhibition showing the geological history of New Zealand, with a simulated 'real-life' experience of what would happen if an eruption were to go off in the Hauraki Gulf.

The museum is also home to the largest collection of Maori and Pacific Island artefacts, including an entire carved meeting house (Hotunui) built in 1878 and a Maori war canoe. They regularly have special exhibitions, and you can check their website to find out what's on when you're in Auckland.

A bird's eye view of Auckland

Auckland Sky Tower is an iconic feature of the city skyline and the best spot for coast-to-coast views across the harbour. The main observation deck is open late into the evening and the best time to go is just before sunset, so you can enjoy day and nighttime views up to 80 km in every direction.

For a pulse-raising experience, you can jump off the Sky Tower in one of the highest base jumps in NZ or take a 'Sky Walk' around the outside platform. Alternatively, watch the daredevils from the safety of the revolving restaurant in the Sky Tower whilst enjoying some fine dining.

Stand on dormant volcanic cones

Auckland is home to 48 volcanic cones, all dormant thankfully, so you won't be dodging hot lava flows. These amazing heights offer amazing views of the cityscape. Many are nestled in luscious green parks, meaning pleasant surroundings for a stroll to the summit, too. Mount Eden is Auckland's highest natural point, and after taking in great views of Auckland harbour, you can grab brunch, lunch, or dinner in one of the many eateries in the quaint village at the base of the mount.

Alternatively, take a ferry to Devonport and hike up Mount Victoria for a view back towards the city. For the more adventurous, carry on to Rangitoto Island, the youngest of the volcanic cones, for a one-hour walk to the summit to soak in the views of Auckland CBD.

Get an intimate view of the local wildlife

A visit to Kelly Tarlton's should be high on the agenda for anyone interested in marine biology. It has one of the world's largest penguin colonies. Visit at the right time of year, and you might get a chance to marvel at freshly hatched, fluffy baby penguins. You can buy your tickets online if you want to book in advance.

If jungle giants are more your thing, wander through the wildlife safari at Auckland Zoo to hand feed the giraffes or get up close to the resident elephant who takes a daily stroll around the zoo.

Shop 'til you drop Waterfront stroll

A visit to the City of Sails wouldn't be complete without a mosey along Auckland's Viaduct and Wynyard Quarter, home to the 2003 America's Cup events.

After you've envied over the parked up house-sized super yachts in the harbour, indulge in one of the fine dining restaurants, bars, or cafés packed into this stretch of the CBD.

Black sand between your toes

If you have time to venture further afield from central Auckland, visit the black iron sand beaches of Piha. Made famous by the movie The Piano and the TV show, Piha Rescue, this stunningly beautiful surf beach is more than worth the 40-minute drive to get here.

Hop on a ferry to the charming yesteryear of Waiheke Island

Located just a short ferry ride away from Auckland this island paradise is a true island paradise that offers a delightful escape from the bustling city. Known as the "Island of Wine," Waiheke boasts stunning vineyards and wineries, where visitors can indulge in wine tastings and enjoy breathtaking views of rolling hills and the sparkling waters of the Hauraki Gulf.

The island's pristine beaches, with their white sands and crystal-clear waters, are perfect for swimming, sunbathing, or simply taking a leisurely stroll along the shore. Waiheke is also a haven for art lovers, with numerous galleries showcasing the works of talented local artists.

In addition to its natural beauty, the island offers a variety of outdoor activities such as hiking, kayaking, and zip-lining, allowing visitors to fully immerse themselves in its serene and adventurous charm. With its laid-back atmosphere, picturesque landscapes, and a vibrant arts and wine scene, Waiheke Island is a must-visit destination for nature enthusiasts, wine connoisseurs, and those seeking a tranquil getaway.
Where to stay in Auckland
Whether you're after a weekend getaway, in between adventures or enjoying a stay-cation, there is a range of fantastic options to stay in Auckland.
The Northern Explorer train leaves from the Strand station in Auckland which is closest to Parnell and only a 20-minute walk from Auckland CBD or a 5-10 minute taxi ride.
Suited for every travel style, rest easy knowing your accommodation is just around the corner. There is a plethora of options to choose from, starting at basic backpackers through to luxury lodges and penthouses, every budget is well catered for! We recommend staying at the uber-modern Adina Hotel to the central Rydges Hotel.
Discover Auckland
Whether you're here for a few days or a few weeks, there are so many things to discover and see. Here are a few tips about where to stay and how to get around.
Where to stay in Auckland

CBD and Auckland Waterfront

The CBD which covers Britomart, Queen Street and K Road, is home to a stable of hotel chains such as The Hilton, serviced apartments and backpackers. The waterfront, close to Auckland's Viaduct and Wynyard Quarter, is mainly serviced apartments and hotels with some apartment options also available on Air BnB. Visit Auckland is a great option for finding accommodation in this central Auckland location as a starting point.

Parnell

Parnell is the closest suburb to the Northern Explorer Strand station and one of the oldest, most upmarket parts of Auckland. The area is home to elegant, historical buildings, including the Auckland Museum, while the high street is dotted with art galleries, expensive boutiques and fancy restaurants. Despite the affluent appearance, there is still a decent range of accommodation options to suit most budgets.

Ponsonby

Conveniently located 10 minutes from the city centre, Ponsonby is chic, lively, and overflowing with boutique hotels, villas and unique B&Bs. The area is also well-known for its restaurant options; from exquisite fine dining and award-winning coffee shops to pop - up street stalls, so you won't go hungry if you choose to stay in this next of the woods.

Mount Eden

Sitting at the base of Mount Eden (Maungawhau), the village has a charming vibe with artisan food stores, heritage buildings and neat little cafés. It's also close to the magnificent Eden Park, which hosts sporting events including All Black games. If you're looking for the more authentic Kiwi accommodation of B&Bs or self-contained villas, this would be the place.

Devonport

A short 10-minute ferry ride from the CBD, Devonport will serve you with views of Auckland CBD as well as a relaxed atmosphere in its quietly pleasant high street and nearby Cheltenham beach.

Takapuna (North Shore)

Longing for the feel of sand between your toes and breathing in the salty sea air? Just a 20-minute bus ride from the CBD, you can cross the harbour bridge to the North Shore's unofficial capital, 'Takapuna'. Takapuna has a beautiful white-sand beach that will give you views of Rangitoto and has a host of restaurants, cafés and bars to choose from. This is a great spot for families as there is a playground on the beachfront and the majority of eateries are kid-friendly. It also has a great range of accommodation from hotels, motels to hostels.

Eating out in Auckland

The abundance of eating options in Auckland serves up endless options whether you're after a quick bite, fine dining affair or are just going straight in for dessert. Here are some suggestions of where to start your quest to tantalise your taste buds!

Fine Dining

If you want to experience New Zealand's Master Chefs, you don't need to venture far from Auckland's CBD. Irresistible dining options are clustered around Britomart, High Street, Federal Square and Auckland's waterfront and the perfect place to start your culinary adventure. The notable magazine Metro annually announces the Top 50 restaurants in Auckland and the perfect place to research what might tickle your fine-dining taste buds.

Cafe Culture

You won't be able to turn a corner without stumbling across a café, Aucklanders can't start the day without a trim flat white or soy latte. Add in some smashed avocado on toast with a side of bacon, and you'll be ready to start the day (or afternoon should you be there for brunch). Whichever part of the city you're in, we suggest you check The Urban List of Auckland's Top café , so whatever brew you choose, you make sure it's a good one.

Quick Bite and Cheap Eats

The multi-cultural blend of Auckland brings a welcomed selection of food to grab on the run. Burgers, bagels, noodles, dumplings, hangi, sushi, curry – are you hungry yet?

Dessert Only

There are not many places that offer 'desserts only' but in Auckland, there are a fair few to keep the sweet-tooth fans happy! If you like a generous scope of ice cream smothered in fanciful garnishes, Giapo's is a must while for pure chocolate scrumptiousness. Make sure to check out Urban List for more sweet treats.

Getting around Auckland

Much of Auckland is surrounded by water; therefore catching the ferry is a common form of transport. You can take a short ride across the harbour to the North Shore or out to the Hauraki Gulf Islands like Waiheke. The central ferry terminal is also known as downtown, 2 minutes walk from Britomart station.

Public Transport

It is easy to travel by bus or train throughout the city and beyond. Britomart is the central transport hub for bus and train journeys, just a short walk from The Strand – your stop on the Northern Explorer train.

Maps and timetables can be found at Auckland Transports Journey Planner. To pay for most public transport in Auckland you'll either need cash or an AT HOP card. If you're staying for a little longer in Auckland, it might be worth investing in a Hop card (they're only $5) as you get some savings on your trips.

Driving - hire a car or motorhome

Driving is a popular choice if you are wanting to explore more of Auckland. The Northern Explorer stops a short walk to "rental car road" with many rental companies to choose from including Go Rentals, Ezi Car Rental and Jucy.

Make sure you carry your driving licence with you at all times which driving in New Zealand, failure to do so can cause a hefty fine. Check who can drive and what is required from NZ Transport Agency.

Cycling

If rush hour traffic isn't your thing, explore the city by bike. Easy routes go along the waterfront or if you are feeling energetic tackle a trail through the suburbs. Head to the i-SITE for more information on bike hire or take a look at these cycling routes for some 2 wheeled inspiration.

Getting there and away

Auckland is very well connected, with major highways, airways, and railways heading both north and south. However, New Zealand is bigger than it looks - partly because the roads are single carriageways that wind through incredible scenery. So be sure to consider the journey times when planning your holiday - a 300km car journey can take several hours.

Connecting with Auckland by train

Rather than tackle the long drive through the North Island, set off on your North Island adventure from the comfort of the Northern Explorer train, previously known as The Overlander. You can do the 680km trip in one go, taking in the extremes of the North Island scenery in a day. Or make the most of the popular destination the Northern Explorer stops at; Otorohanga for the magical Waitomo Caves, Tongariro National Park, the mountain town of Ohakune and finally the cool little capital of Wellington where the journey ends.

The Northern Explorer departs from Auckland on Monday, Thursday and Saturday.

Auckland train stations

We have two Northern Explorer stations in the Auckland region. At the centre of the city, Auckland Strand Station is the exclusive home of the Northern Explorer train. To the south of Auckland, Papakura Station offers excellent train connections around the greater Auckland region.
History of Auckland
Auckland has a rich and fascinating history that spans centuries. The area was originally inhabited by the indigenous Māori people, who named it Tāmaki Makaurau and thrived off its fertile lands and abundant resources.
In 1840, the Treaty of Waitangi was signed, establishing British sovereignty over New Zealand. Auckland was chosen as the capital of the newly formed colony due to its strategic location and excellent harbors. The settlement rapidly grew, attracting European immigrants, particularly during the gold rushes of the 1860s.
Abundant Land

Auckland is built on a volcanic field of 50 dormant volcanoes, which have totally changed the city landscape. The hills, lakes and basins of the city are the remains of past eruptions.

Pre-dating back to pre-European settlement, Auckland was inhabited by Māori tribes for centuries. The region was known as Tāmaki Makaurau, meaning "Desired by Many," referring to the fertile lands and abundant resources. And it is no secret why. Auckland's beaches, harbours, rainforest-covered ranges, maunga, productive rural areas and gulf islands are all within relatively easy proximity for residents and visitors to enjoy.

Once the Capital City

In 1840, the Treaty of Waitangi was signed, establishing British sovereignty over New Zealand. Auckland was chosen as the capital of the newly formed colony due to its favourable location for trade and its proximity to the harbours. The settlement rapidly grew, attracting European immigrants, particularly during the New Zealand gold rushes of the 1860s.

A Thriving Commercial and Industrial Center

The construction of rail and road networks connected Auckland with other parts of the country, further fueling its growth. The city became an important port and played a significant role in the export of New Zealand's agricultural and dairy products.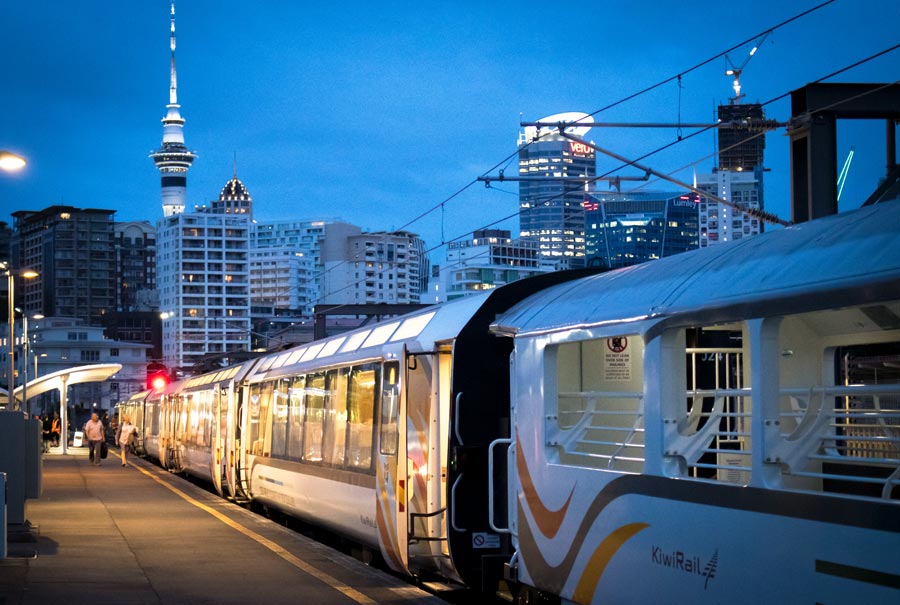 Auckland Railway Station
Located in the charming neighbourhood of Parnell sits the historic Strand station.
Find out more about the station, including maps, parking, and amenities and the Northern Explorer timetable.
View Station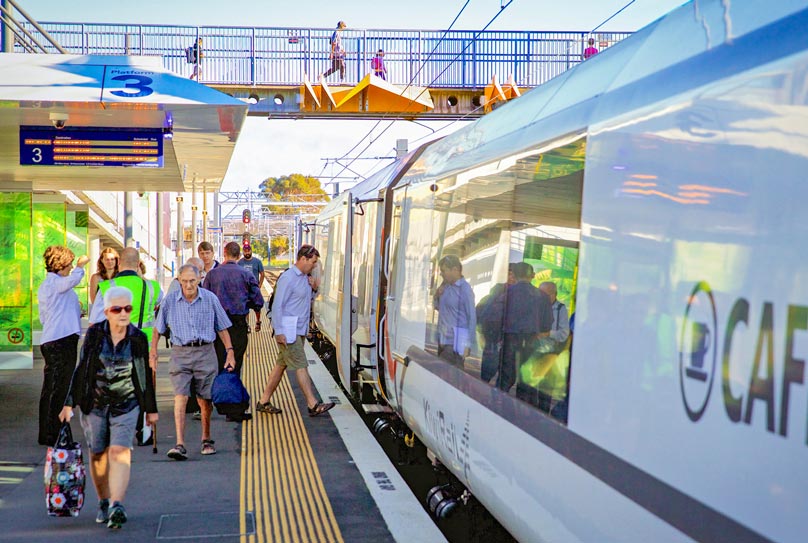 Papakura Railway Station
Located just south of the centre of Auckland City, Papakura is a bustling transportation hub that offers convenient access to various destinations in the city and beyond.
Find out more about the station, including maps, parking, and amenities.
View Station
Explore New Zealand's Largest City
Discover a vibrant fusion of cultures, where modernity harmoniously coexists with the breathtaking beauty of its harbours, volcanic cones, and pristine beaches.