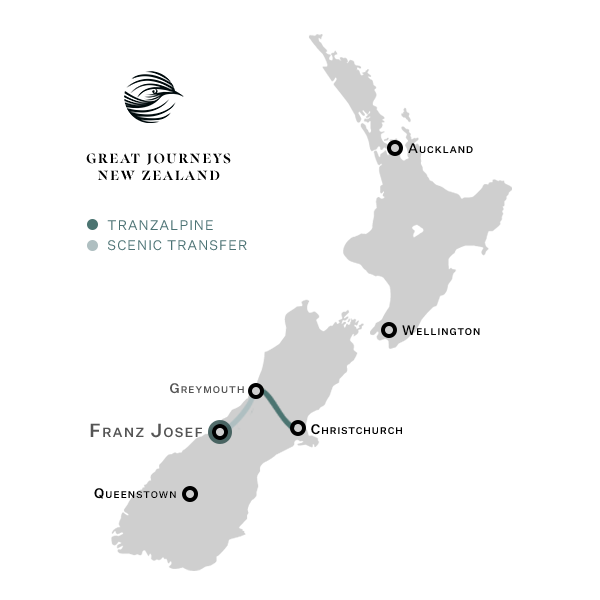 Lush rainforest and snow-capped alps
Located on the wild West Coast of New Zealand resides a small town known for being just a few short steps away from a world-renowned glacier. Franz Josef glacier, sitting in the incredible Westland Tai Poutini National Park, is a UNESCO World Heritage site and is quite a site to see! Head to Franz Josef town to be surrounded by lush rainforest and breath in the crisp, clean air of this natural paradise.
Head along for a scenic drive to access Franz Josef from the North or South. This remote town is just over 2 hours away from Greymouth and 5 hours from Queenstown. The journey will be part of the experience as there will be many photo opportunities along the way as you discover the stunning scenery around every corner.
Explore Franz Josef
Visiting Franz Josef is an unforgettable experience of natural wonder. From hiking to eateries, helicopter rides to meeting the rare and unique alpine parrot—New Zealand's kea bird.
If you're interested in exploring the lush rainforest and discovering history's past stories, then head to the Tatare Tunnels Walk to explore the old tunnel and see the glowworms. Or perhaps you want to catch a glimpse of Franz Josef Glacier itself. With multiple viewing angles, there will be something for every fitness level.
For an up-close encounter with the glacier, we highly recommend taking to the skies to join the magical experience of a scenic helicopter flight to with this natural wonder.
Things to do in Franz Josef
Franz Josef is an oasis for nature lovers, keen photographers and those who want extraordinary memories.
Rain or shine, this tropical haven is bursting with unmatched scenery. So strap on your walking shoes and take to one or more of over 30 trails.
For those that want an elevated experience, why not jump on a heli-tour or a skydive? After all that excitement, a hot tub soak might just be what you're looking for to ease the adrenaline.
Franz Josef Accommodation
Staying overnight in Franz Josef is a wonderful way to experience everything this stunning destination has to offer.
You'll find several options for accommodation in the centre of town. From affordable camping accommodations like Franz Josef TOP 10 Holiday Park to mini alpine lodges at Kahere Retreat and the luxury five star eco-resort - Te Waonui Forest Retreat.
History of Franz Josef
Named after an Emporer

In the late 19th century, von Haast, a German geologist and naturalist, embarked on extensive explorations throughout New Zealand, leaving an indelible mark on the country's geography. His notable contribution to the discovery and naming of the Franz Josef Glacier led to the subsequent christening of the town.

During his exploratory endeavours, von Haast encountered the awe-inspiring glacier descending from the Southern Alps. In a gesture of admiration and respect, he chose to name the glacier after Emperor Franz Joseph I of Austria, who was a patron of scientific exploration and had ennobled von Haast himself. This honorary naming not only paid tribute to the emperor, but also immortalised the glacier's magnificence.

Gold in Franz Josef

In the late 19th century, the discovery of gold in Franz Josef sparked a rush of prospectors from around the world. The town emerged as a settlement supporting the mining activities in the area, attracting Europeans, Chinese, and Māori miners. Though relatively short-lived, the gold rush brought rapid growth and economic prosperity to the region, leaving a lasting impact on Franz Josef's development.

Kiwi Bird Regeneration

Conservation efforts in Franz Josef, New Zealand, have successfully regenerated kiwi populations. Through predator control measures, habitat restoration, and public awareness campaigns, the decline of these iconic birds has been reversed. Today, Franz Josef is a thriving sanctuary where kiwis are protected and can thrive in their natural habitat.

Glacial Changes

The Franz Josef Glacier has a rich geological history that spans thousands of years. It was formed as a result of the gradual accumulation of snowfall in the Southern Alps, which compressed into ice over time. As the ice moved down the valley, it carved and shaped the landscape, creating the magnificent glacier we see today.

However, in recent decades, the Franz Josef Glacier, like many glaciers around the world, has experienced significant environmental changes due to climate change. Rising temperatures have led to accelerated melting and retreat of the glacier. This melting has altered the size and shape of the glacier, as well as the surrounding landscape.

The environmental melting of the Franz Josef Glacier has sparked concerns about its long-term survival. Efforts have been made to monitor and study the glacier's changes, as well as raise awareness about the impact of climate change on glaciers and the need for sustainable practices.

The melting of the Franz Josef Glacier serves as a stark reminder of the urgent need to address climate change and its effects on our natural environment. It highlights the importance of preserving and protecting these fragile ecosystems for future generations to appreciate and enjoy.
West Coast Train
Travelling to the West Coast by train couldn't be easier or more beautiful than aboard the TranzAlpine.
Weaving through the peaks of the Southern Alps, the TranzAlpine Christchurch to Greymouth train ranks among the best scenic train journeys in the world.
From Greymouth, you can simply rent a car or campervan and explore Franz Josef and the West Coast at your leisure. Alternatively, you can book one of our short breaks or tours and let us take care of everything for you.
West Coast Train
Getting to Franz Josef by train
Travel aboard the world-famous TranzAlpine train to Franz Josef with our South Island rail tours and short breaks.
Explore the West Coast
From idyllic lakes to geological wonders, discover why New Zealand's West Coast is such a spectacular place to visit: