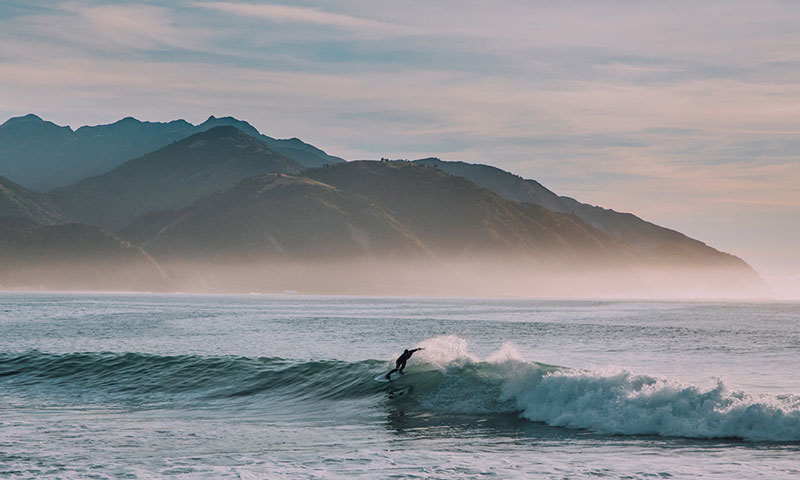 Discover the magic of Kaikōura
Take the Coastal Pacific to the picturesque town of Kaikoura, where mountains meet the sea and wildlife outnumbers the locals!
Few places in the world can boast of such natural wonders as those offered in Kaikōura. The dramatic landscape of a town between the Kaikōura Ranges and the South Pacific Ocean make this a year-round destination.
Below the surface, Kaikōura is home to an abundance of marine animals and rare undersea phenomena such as the Hikorangi Trench. This 3km deep canyon stretches across the ocean floor, allowing Kaikōura to be one of the few places in the world where you can see Sperm Whales so close to shore.
Kaikōura is the ultimate Eco-tourism destination; with the local community leading the charge in conservation and sustainability. As a result, Kaikōura is the first destination in the Southern Hemisphere to achieve Earth Check Platinum Accreditation.
This article includes the following sections you can jump to:
Things to do in Kaikōura
As an all-season destination Kaikōura has something for everyone, here are some of our top picks.
There is more to this seaside town than the marine life but no trip to Kaikōura would be complete without seeing some of these majestic animals!
Whale watching in Kaikōura is one of the most popular activities and it's easy to see why. Due to the deep ocean canyon, there is an incredibly rich marine food chain in Kaikōura's ocean. Sperm whales are top of this food chain but other regular visitors are; humpback whales, southern right whales, the acrobatic dusky dolphins, albatross and pandas of the sea - the orca. Even blue whales are sighted off the Kaikōura coast throughout the year! As the largest animal that has ever lived on earth, this is a very special sight to see.
Take the popular 2.5 hour boat tour with Whale Watch Kaikōura , or take to the air for a really unique perspective.
Dive into Kaikōura's rich history
The recently opened Kaikōura museum is a great place to learn more about Kaikōura's history. The Museum opened only 9 days after the 7.8 magnitude earthquake that hit on November 14th 2016. Exhibitions include natural history, Maori, whaling, surfing and mementos from Kaikoura's past. The Museum is open daily from 10am - 5pm and can be found opposite the i-SITE.
Go back in time at Fyffe House
For all you history buffs, take a trip to Fyffe House. Kaikōura's oldest surviving building and whaling station, established in 1842. Fyffe house shows family life during Kaikōura's early days and is a testament to how resourceful and resilient the townsfolk are. From audio stories to artifacts and whalebone foundations, this is a fascinating place for a stroll.
Get snap happy with the seals
You're bound to see the Seals of Kaikōura lying on rocks all over the coast; they're likely to fill up your camera space very quickly! Despite concerns for the seals after the 2016 earthquake, the population is ever growing. Whilst some have found new spots to call home, the best place for viewing is at Point Kean, just south of the township.
If you want to take it up a notch, you can take the plunge with these incredible sea dogs. Snorkelling with seals is an incomparable experience and a reminder of the brilliance of our natural environment. This is a true NZ must do!
Wander the coastline
What about an activity that is light on the purse strings? Take a walk along the Kaikōura Peninsula. The Kaikōura Peninsula Walkway is a community project, shared among some local businesses. The Walkway is an easily accessible loop, with spectacular views in all directions. The whole walk should take you about 3 hours (11.7kms), with enough time to sit back and enjoy the scenery.
Join the Coastal Pacific Train - A Great Journey of New Zealand
The Coastal Pacific train between Christchurch and Picton shows the best of the East Coast. Sit back and relax along 98km of stunning coastline and see sights only captured by train.
The magic combination of coastal and alpine views makes stopping in Kaikōura a must-do on your Coastal Pacific journey.
Eating out in Kaikoura
Kaikōura may be small but it is not lacking in gastronomic pleasures.
Seafood lovers rejoice; this is the place to taste the best of the ocean's larder. Crayfish is a local speciality – enjoy it roadside, at the iconic beachside caravan Nin's Bin, or in one of the township's popular restaurants such as The Pier Hotel. Just be sure to include an award-winning local wine alongside your seafood spread.
If you're craving something deep fried and covered in batter, try dining Kiwi-style with piping hot fish and chips by the sea. Coopers Catch has an array of options from blue cod to monster burgers. We recommend washing it all down with a nice cold bottle of L&P!
For those of you with a sweet tooth look no further than Poppy's Handmade Ice Cream Parlour & Café along Kaikōura's main strip. Famous for their handmade gluten-free ice cream, there's a flavour to suit tourists and locals alike. Choose from Kiwi classics to Sambuca, Bailey's, Saffron and Peanut Butter!
Where to Stay in Kaikōura
Accommodation in Kaikoura ranges from unique luxury to backpacker basic.
A short walk from Kaikoura station and you will find accommodation to suit any holiday style. From campgrounds and backpackers, lodges, motels, apartments and more you will easily find the perfect place to stay.
If you have transport and are willing to venture out of the township you have the choice of some idyllic rural retreats such as Hapuku Lodge and PurePods. Set in the mountains these luxurious escapes will leave you feeling refreshed and inspired.
Kaikōura Transport Links
When it comes to getting around, most places in Kaikoura can be reached by foot.
To get from the train to your hotel or accommodation, it is worth asking your hotelier for their recommendation (often they'll offer to pick you up!).
Taxi and shuttle services in Kaikoura
For many years, Kaikoura Shuttles have been the go to option for taxi services and transfers. If you need collecting or dropping at the station, then we recommend pre-booking. They have cars, people carriers and mini-buses available, and can easily cope with groups and families.
Kaikoura Shuttles also offer daily tours of the lavender farm, Fyffe House, Point Keen seals and peninsula walks.
Car hire in Kaikoura
To have the freedom of a vehicle and explore further afield, think about hiring a rental car - just ensure you plan your journey in advance.
Kaikoura Railway Station
The station, also home to Whale Watch Kaikoura, is your stop on The Coastal Pacific train journey. The Coastal Pacific train runs between Christchurch and Picton – gateway to the South.
When at the station, have a look at the sculpture by internationally known artist Ben Foster. KiwiRail commissioned this piece to recognise the immense impact of the Kaikoura Earthquake on the railway line. Mr Foster says the piece is designed to remind those viewing it that change is a constant, and to communicate the power of nature.
Kaikoura Airport
Scenic flights and charters are available here. For domestic and international services see Christchurch International airport.
A Little Bit of History
Kaikoura has seen it all from the days of Te Rauparaha, whalers, farmers, pioneers and timber millers to the growth of roads, shipping and coach services. As a buzzing tourist town famous for whale watching and seafood Kaikōura has been thrown into the public consciousness for other reasons, all at the hands of Mother Nature.
At two minutes past midnight on November 14, a fault zone ruptured 15 kilometres below Culverden. Over the following hundred seconds, the earth unzipped, and under the light of the moon, Kaikōura changed.
Along a 120-kilometre stretch of the Kaikōura coast, 80 kilometres lifted clear out of the water, permanently altering the seabed and leaving sea creatures breathless and exposed. Landslides dammed rivers and destroyed roads and railways. Weighing in at magnitude 7.8, the Kaikōura earthquake was the equal second-largest in New Zealand's recorded history—only the 8.2 Wairarapa shake in 1855 surpassed it. The Kaikoura Earthquake was better documented and measured than any natural event in our history.
As the people of Kaikoura rallied together and opened their hearts, homes and kitchens the rebuilding of the road, rail and livelihoods started. The Railway alone has been one of the biggest rebuilds since World War II. With freight trains now running and the opening on SH1, business is back to usual after months of rebuilding and adapting. Talk about success out of misfortune – another great reason to pay this town a visit!