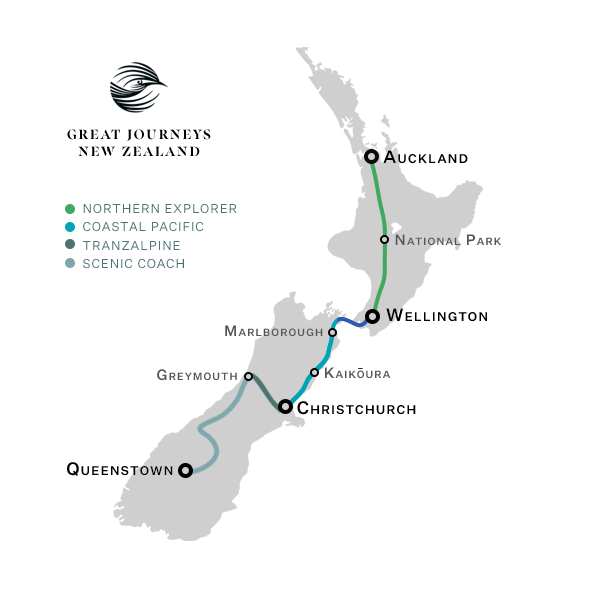 Travel New Zealand on our scenic NZ trains
Climb aboard our scenic NZ train services and see the best of our beautiful Aotearoa scenery from the comfort of your seat whilst travelling around our major cities and tourist destinations on New Zealand rail.
If you are familiar with famous Australian trains, such as The Ghan and Indian Pacific, or Canada's Rocky Mountaineer, or the great Orient Express, then our philosophy is similar.
However, we like to keep things more understated and casual.
We let the scenery deliver the thrills, and our huge panoramic windows and Open-air Viewing carriages bring New Zealand's outstanding natural beauty to your seat. Meanwhile, the relaxed carriage atmosphere and local crew deliver that authentic, friendly, New Zealand charm.
Our Scenic NZ Trains
If you are looking for New Zealand trains, then look no further. Climb aboard our Auckland to Wellington train, our Picton to Christchurch train, and our world-famous Christchurch to Greymouth train. Each offers supreme comfort alongside stunning scenic views through huge panoramic windows.
Explore inside our Scenic Class experience
All three of our trains feature our award-winning Scenic carriages, designed to maximise the viewing and comfort of travelling along New Zealand's spectacular narrow gauge rail network. Each service also features a licensed Scenic café and Open-air Viewing Carriage to keep you entertained!
Scenic Plus Experiences
Enjoy a full-sensory experience as you travel through New Zealand, with a full dining menu bringing you the flavours and live commentary providing the history and stories from the lands you see through your window.
Scenic vs Scenic Plus
Scenic
Our Scenic rail experience provides a spacious and comfortable way to travel through New Zealand, with seat to ceiling panoramic windows that bring the stunning New Zealand scenery to your seat, a licensed café selling hot and cold food and drink, and our Open-air Viewing Carriage that provides an unforgettable perspective of New Zealand's great outdoors.
Scenic Plus
Scenic Plus is a full-sensory exploration of New Zealand that combines the Scenic panoramic viewing experience with live storytelling and an inclusive dining menu paired with local wines.
At the heart of this experience is our Paddock to Plate tasting menu that weaves local ingredients together in a series of hot and cold dishes lovingly prepared in our custom-built kitchen carriage.
Panoramic windows, spacious carriage, and comfy seating
◉
◉
Open-air Viewing Carriage
◉
◉
Licensed Scenic Café
◉
◉
Exclusive kitchen carriage preparing hot & cold meals
◉
◉
Inclusive drinks and dining service throughout the journey
◉
◉
Paddock to Plate regionally inspired food menu
◉
◉
Paired drinks menu
◉
◉
Specialist Table Service & Storytelling
◉
◉
Priority Check in & Boarding
◉
◉
Luggage Check In & Drop off
◉
◉

Included = ◉




Not included = ◉
Explore our New Zealand Railway Stations
Connect with destinations throughout our New Zealand rail network by stopping at our stations along the way.
From Auckland to Wellington to Christchurch to Greymouth and everywhere in between. Our New Zealand trains will get you connected with authentic New Zealand, from its great cities to it rural heart.
Explore our stations
Explore Our Interactive Map
Explore our New Zealand rail network on Google Maps to discover where our trains go and how they connect with road routes, towns, and cities across New Zealand.
For a truly immersive experience, select 'View map in Google Earth' by clicking the three dots next to the magnifying glass at the top of the sidebar on a desktop computer. You can then cruise along our railways, weaving through mountains and along the coastlines of New Zealand.
Explore Our NZ Rail Map
Ready to book?
To book a train, visit the page for the service and use the book button.
Alternatively, call us now on:
Monday to Sunday: 8am - 5pm