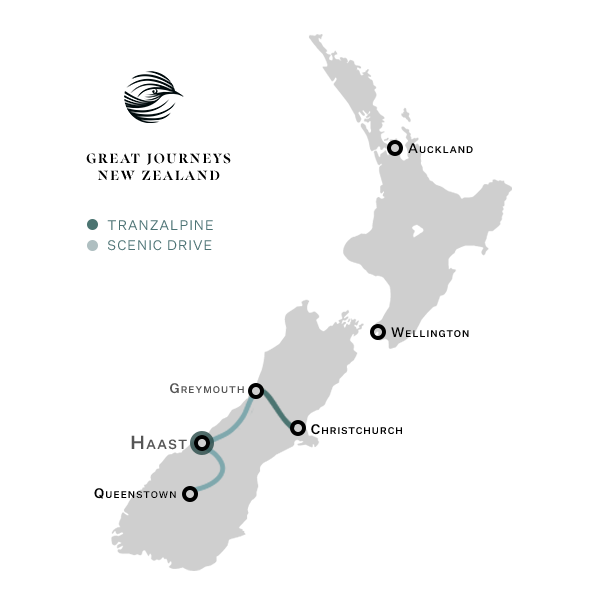 Dramatic landscapes await
Located on the wild West Coast of New Zealand resides a small settlement nestled between the Tasman Sea and the great Southern Alps. Known for its untouched natural beauty, it's the perfect destination for adventure seekers, or for those who are keen to discover the the seemingly undiscovered. As part of Te Wahipounamu World Heritage Area, Haast boasts rich biodiversity, offering opportunities to spot unique wildlife species.
Head along for a scenic drive to access Haast from the North or South. Just 3 hours from Queenstown and 4 hours from Greymouth, this remote experience can be a destination or an outstanding stop along the beaten path.
Walk where dinosaurs once roamed
There's a reason why this destination is classified with the same status as Machu Picchu and the Taj Mahal. Stepping into Haast is like stepping back into a pre-historic world when dinosaurs roamed and the earth was a supercontinent. Untouched, experience hiking, fishing, hunting, jet boating, kayaking, and even heli-skiing like nowhere else in the world.
As you step out of modern life and begin discovering the grandeur of this raw environment, you'll be welcomed to remarkable glaciers, waterfalls and engaging species. Situated in the Te Wahipounamu World Heritage Area, Haast sits amidst the incredible sights of Mount Aspiring National Park and Westland Tai Poutini National Park.
So, what are you waiting for? Go out and discover what the earth looked like 200 million years ago!
Things to do in Haast
Haast is bursting with extraordinary sights. From vibrant turquoise waters to towering mountains and dramatic caverns, keen photographers and nature lovers will rejoice.
With everything a little bit larger than life, there's no doubt your time in Haast will be a story to be told.
Haast Pass Walks

Haast Pass is a scenic route that connects Wanaka and Haast in New Zealand. It offers many opportunities for walking, hiking, and exploring the natural beauty of the area. Some of the most popular walks along Haast Pass are:

The Blue Pools: A 3 km return walk through a forest to a stunning gorge with clear blue water. You can swim in the pools if you are brave enough to face the cold glacial water.


Fantail Falls: A short walk from the road to a 23-metre high waterfall that cascades into the Haast River. You can also see some historic rock cairns that were built by gold miners in the 1860s.


Thunder Creek Falls: A 5-minute walk to a 28-metre high waterfall that plunges into a deep pool. The falls are named after the thundering sound they make.


Roaring Billy: A 30-minute return walk to a wide gravel beach on the Haast River, where you can see the Roaring Billy Falls across the water. The falls are named after a wild bull that used to roam the area.


Haast Pass Lookout: A 10-minute walk to a viewpoint that offers panoramic views of the mountains and valleys of Mount Aspiring National Park. You can also see Mount Brewster, which has a permanent ice cap.

Haast Restaurants

The Craypot: This is a popular seafood restaurant that serves fresh and tasty crayfish, blue cod, salmon, scallops, and more.

Hard Antler Bar & Restaurant: This is a pub-style restaurant that offers hearty and satisfying dishes, such as burgers, ribs, nachos, bangers and mash, and more.

The Frontier Cafe & Bar: This is a quick bite place that serves breakfast, lunch, and dinner. You can choose from a variety of options, such as seafood chowder, whitebait fritters, pizza, pasta, salads, and more.
Haast Accommodation
Staying overnight in Haast is a wonderful way to experience everything this incredible destination has to offer. Wake up to stunning views of the rugged mountains, lush rainforest and pristine rivers. With the warm hospitality of the locals, you'll feel right at home the moment you arrive.
You'll find several options for accommodation in this small settlement. From affordable camping accommodations like Haast River Motels & Holiday Park to Wilderness lodge Lake Moeraki and in between.
History of Haast
Surprisingly, Haast Pass was only connected to the West Coast from 1965.
Ngāi Tahu Iwi

Before the Europeans set down in the area around 1835, Ngāi Tahu used Haast to cross to the West Coast from Wanaka. The rivers, in particular, are revered for their significance in traditional stories, rituals, and as sources of food.

Julius Haast

Arriving to New Zealand on an exploration for German immigration, Julius was a very influential part of the country's history. From investigating the coal fields just south of Auckland to the gold mines in the Coromandel and the tunnel in Christchurch to Lyttleton, Julius was a biology expert. Not only this, he was the first person to study the bones of the extinct Haast eagle and is also the reason we call the schist in New Zealand 'Haast schist'.

It was in 1863 that Julius led a five-man team of gelogists and explorers to claim the first official crossing into what we now know as 'Haast'. He named the Haast River after himself, "directed, so he said, by his provincial superindendent", and returned to Lake Wānaka "nearly shoeless" after six weeks.

The road in and out

Despite Haast being discovered in 1863, access to the region was limited until 1880 when a pack horse track became the only usable route. Surprisingly, it wasn't until 1929 that construction began on an official road, starting from Lake Hãwea. The eastern side from Makarora saw construction begin in 1936 but was halted due to World War II. In 1946, work resumed on the western side, progressing slowly, with only 10 miles of roadway remaining by 1955.

In November 1960, the Haast Pass road, linking Otago and southern Westland, was officially opened. However, in the following year, a temporary closure occurred to replace the Bailey bridge at Gates of Haast with a permanent structure. The Callender-Hamilton bridge was unveiled in September 1961 after a three-month road closure. During this time, supplies for Haast had to be laboriously transferred across a catwalk over the river.

The entire Haast Highway, including the final 50 kilometers (31 miles) section between Haast and Paringa, was officially opened on 6 November 1965. However, it wasn't until 1995 that the entire route was chipsealed, providing a smoother and more durable surface.

UNESCO World Heritage Site

In 1990 the Haast area was included as part of a UNESCO World Heritage Site due to its spectacular glaciated landforms — fiords, lakes, peaks, and valleys — and rocks, flora and fauna originating back to the ancient supercontinent of Gondwana.

The Haast Area offers significant natural value to New Zealand and the local community. Thankfully, it is protected under the international treaty.
West Coast Train
Travelling to the West Coast by train couldn't be easier or more beautiful than aboard the TranzAlpine.
Weaving through the peaks of the Southern Alps, the TranzAlpine Christchurch to Greymouth train ranks among the best scenic train journeys in the world.
From Greymouth, you can simply rent a car or campervan and explore Haast and the West Coast at your leisure. Alternatively, you can book one of our guided tours and let us take care of the detail for you.
West Coast Train
Getting to Haast by train
Travel aboard the world-famous TranzAlpine train to Haast with our South Island rail tours.