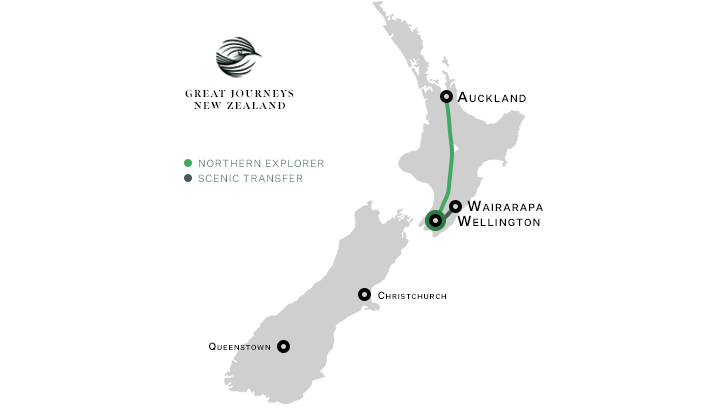 Why Wairarapa?
Located in the southeast of New Zealand's North Island, the Waiarapa region is the perfect day trip from Wellington. A short 80 kilometres northeast of the capital city, you'll love the change of pace just 1 hour and 15 minutes from the city centre.
The journey to this lush region is all part of the experience. Departing Wellington, you'll cruise past the beautiful waters of Petone's bay, wander through the sleepy suburbs and then begin a great climb into Remutaka Hill. Stop for a moment at the Remutaka Crossing Lookout to get a marvel at the panoramic view of this incredible valley before making your way onto the Waiarapa plains.
A morning in Greytown
10:30am - 12:30pm - Explore Greytown Village
Surrounded by a beautiful countryside of rolling hills, vineyards, and orchards sits Greytown. Best known for its well-preserved Victorian architecture, boutique shops, art galleries and fantastic cafés, this is the first stop on the Wonders of Wairarapa Day Trip.
After indulging in an aromatic coffee, get lost in the impeccable boutique shops. Smell the handmade candles, peruse through the historic bookshop, feel the quality fabrics and wool throws at the homeware store and indulge in the sweets at the chocolate studio. Before you know it, it will be time for your next sensory experience.
Lunch at the White Swan
12:30pm-2:30pm - Wairarapa Showcase Lunch
Originally the Railway Department's administration office near Wellington, this listed building was relocated to Greytown in six pieces in 2002 and 2003. It's here that you'll enjoy a delicious lunch hosted by local wine connoisseur, Greg Williams.
The White Swan has a certain elegance that is unmatched. With sparkling wine glasses, and the aromas of culinary masterpieces drifting from the kitchen, the atmosphere is simply wonderful.
As Greg opens a bottle of last season's local Pinot Noir, you know you are in for a treat. Savour every bite as you dive into the hand-crafted sharing platters while you sip on cherry notes.
Martinborough Wine Experience
2:30pm - 4:00pm - Guided Wine Tour
Take an immersive journey into a wine lover's dream destination. Martinborough is located just south of Greytown and is known for its plethora of vineyards and delicious Pinot Noir.
Throughout this afternoon of wine tasting, you'll discover the tasting notes of the region. Dry and light, medium to full-bodied, you won't resist purchasing a few bottles to bring home to enjoy with family and friends.
After enjoying three to four wineries, your memorable day in Waiarapa region will come to end as you rejoin the scenic shuttle to head back to Wellington.
Getting there
Our knowledgeable Travel Centre can assist you with adding this wonderful day trip to your great journey. Get started by visiting Wellington along your train, rail package, rail tour.