Departing from Christchurch, journey to the picturesque town of Kaikoura to cruise beside playful pods of dolphins.
Highlights
Explore the Pacific coast by scenic train journey
Whales, dolphins and sea life – spend the day surrounded by wildlife
Enjoy the day interacting with the local dolphins
You'll love this break
If you are looking to be surrounded by wildlife, history and delicious kai (food), then this short escape is for you. Enjoy the exhilarating experience of this dolphin experience in picturesque Kaikōura.
Inclusions
Coastal Pacific (return)
Morning tea & dinner onboard
Packed lunch
Guided sightseeing tour of Kaikōura
Kaikōura accommodation
Dolphin encounter experience
Breakfast
Transfers
Itinerary
Exploring Kaikōura
Join the Coastal Pacific train in Christchurch for a spectacular journey across the Canterbury Plains. Begin your journey by heading north along the coast. Fly over viaducts and traverse through tunnels along the coastal cliff side as you snake between the mountains and the sea. Enjoy morning tea on board as you soak up the views from the comfort of your seat.
On arrival into Kaikōura, you will receive a packed lunch before setting off on your sightseeing tour. Get acquainted with the local seal colonies, discover the dramatic effects of the 2016 earthquake on the Kaikōura coastline, and visit a spectacular viewpoint with views of the peninsular.
After this exciting tour, the rest of the day is yours to explore.
You might want to take to the skies with Wings over Whales to see more of the stunning scenery or a sneak peek of the whales from above.
The Kaikōura Peninsula Walkway starts right in town if you're looking to stretch your legs and work up an appetite before indulging in the culinary delicacies of Kaikōura. A haven for seafood lovers, you'll find crayfish (lobster) that gave the town its name, as well as a host of fresh local specialities at many of the restaurants a stone's throw from your accommodation.
Dolphin Encounter
This morning you'll enjoy a delicious breakfast buffet with cooked and continental selections at the hotel or nearby café before embarking on a Dolphin Encounter tour to witness the most incredible dolphin show on earth, with spectacular viewing of these acrobatic and energised dolphins.
There's also an option to upgrade to swim with the dolphins on the tour, where you'll interact in the water with this highly sociable specie for a truly memorable experience.
The afternoon is free for you to explore more of Kaikōura before transferring back to the station to return to Christchurch on the Coastal Pacific train and enjoy dinner onboard on your return journey.
An epic voyage on the Coastal Pacific train
One of the biggest highlights of your dolphin encounter will be the journey.
Climbing aboard the Coastal Pacific in Christchurch, your coastal discovery break will start in relaxing style as you ease back in your reclined seat and enjoy the views through your panoramic window.
The Coastal Pacific takes you on an adventure along rugged coastlines, across remote beaches, between mountains and sea, on a timeless journey of breathtaking beauty. The cherry on top will be our licensed bar serving drinks throughout the afternoon, this will certainly be a relaxing end to your journey.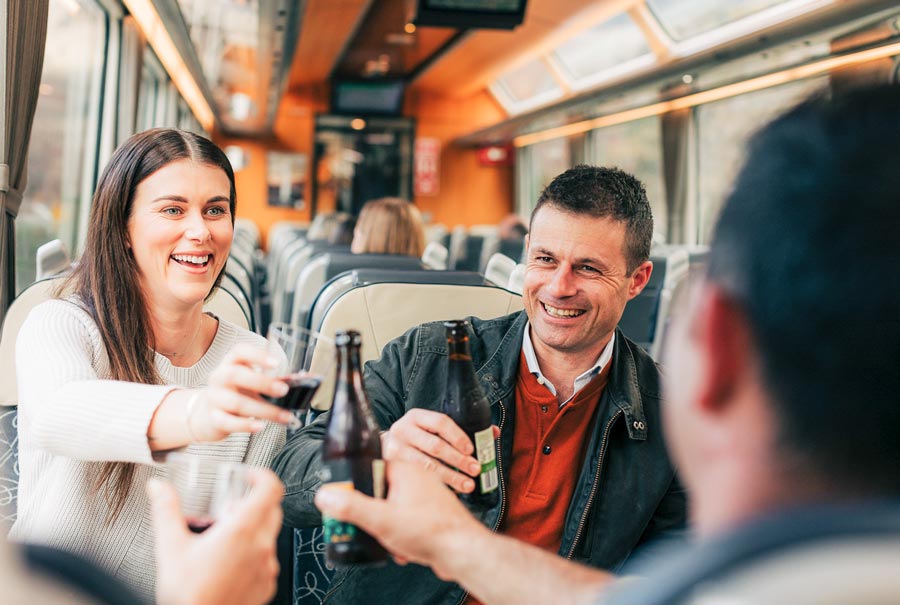 An unforgettable travel experience
With spacious reclined seats, huge panoramic windows, air conditioning, roomy toilets, and an on board licensed café, your journey through New Zealand couldn't be more comfortable.
Add to this our famous Open-air viewing experience to get you immersed in that stunning New Zealand scenery, and you'll be blown away - almost laterally.
Discover more about our travel experience to find out what awaits.
Find out more
More packages and breaks to explore