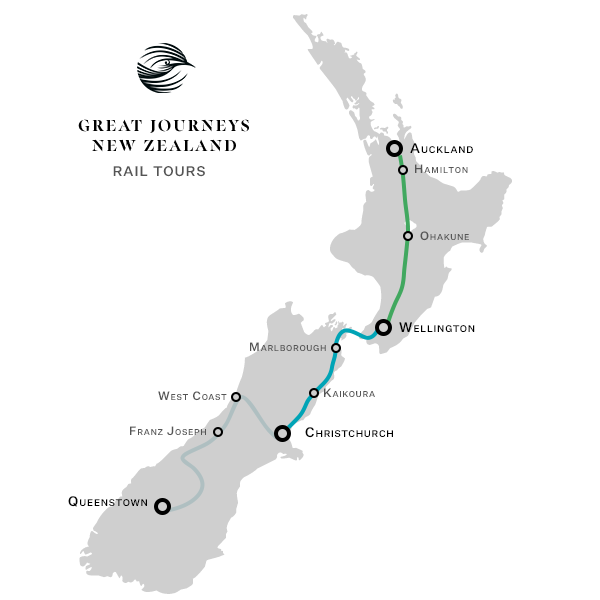 Let us take you there...
Cruise through New Zealand's picturesque landscapes on one of our unique rail tours, visiting world-famous destinations and idyllic locations on a voyage of discovery.
Hosted aboard our award-winning scenic trains, you'll weave through New Zealand's dramatic landscapes in spectacular style. With picture-postcard views flowing seamlessly through your panoramic window, the journey will astound you. As your Tour Director leads you beyond the well-beaten paths and highways, you'll become immersed in authentic New Zealand culture.
Our unique rail tours take you beyond boundaries on a once-in-a-lifetime journey that you'll treasure forever.

Save 15% on March Tours
Start 2023 with your ultimate New Zealand rail tour. Book now and SAVE 15% on selected March rail tours.
View Deals
Led by a Local
Meet Mark, our experienced Tour Director.
Joining Mark on any of our tours means a personalised experience. Tap into his local knowledge as he guides you across volcanic regions, through mountain ranges and alongside coastal paths. Each of our tours is fully guided which means you'll spend less time planning, and more time enjoying your adventure. No stress, no worries. Have a question about New Zealand's rich geology, culture, history or maybe even where the best-kept culinary secret is on your free evening to explore the city? Mark's your guide.
With local knowledge at your fingertips - you won't miss a thing.
Classic Tours
Our Classic Tours provide an exciting balance of organised travel with customisable activities.
Travelling through New Zealand's stunning scenery aboard our scenic trains, we'll take you to New Zealand's premier locations, where you can choose from an incredible selection of optional activities.
Throughout your journey, your Tour Director will be on hand to show you the sights and organise your travel experiences. All you need to do is relax and enjoy every sensational minute of every spectacular day.
Classic Tours include:
Experienced Travel Director • Ranging from 6 to 15 days • Breakfasts and selected meals • Accommodation ( 3.5-4 Star) • Scenic train travel • Transfers • Optional activities
Signature Tours
Our Signature Tours take you deep into New Zealand culture on a unique rail tour filled with amazing local experiences.
While you relax and absorb stunning New Zealand landscapes aboard our scenic trains, your experienced Travel Director will be entertaining you with the stories and histories of our land.
You'll be travelling to New Zealand's most popular destinations and most spectacular locations, leaving the well-travelled roads behind. With an extensive range of premium experiences included, our Travel Director will be showing you authentic Aotearoa New Zealand on an unforgettable journey of a lifetime.
Signature Tours include:
Experienced Travel Director • Ranging from 6 to 17 days • Breakfasts & a selection of meals • Accommodation (4-4.5 Star) • Scenic train travel • Transfers • Premium activities included