Planning a family vacation can be quite challenging, with road navigation, frequent toilet breaks, and the ever-present "are we there yet" question making it more of a hassle than an enjoyable experience. However, if you're seeking a hassle-free solution for your next family adventure, consider this brilliant idea.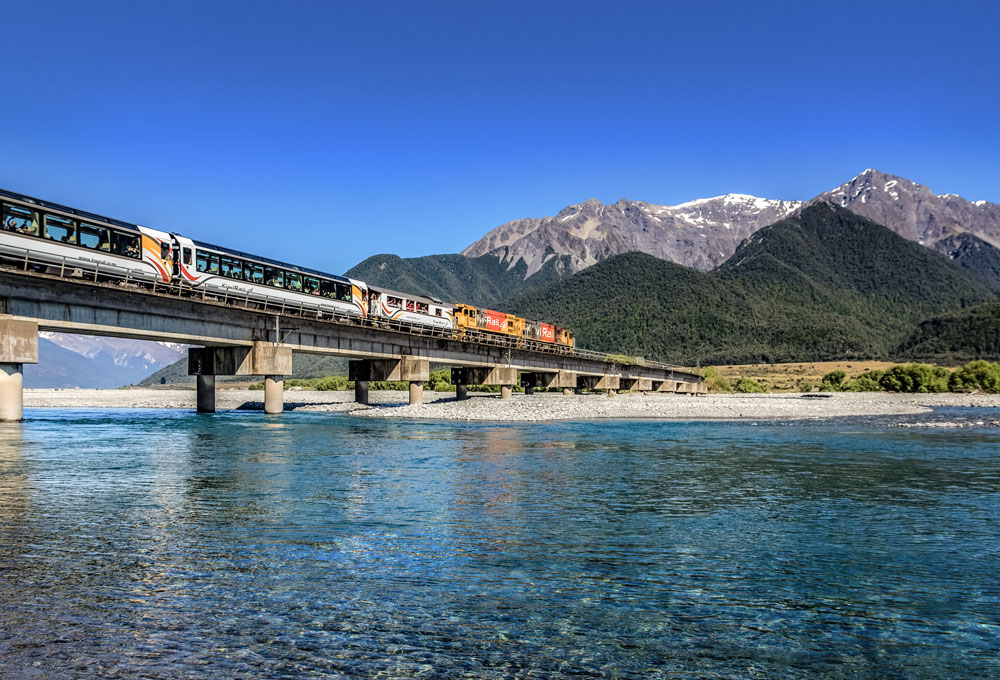 Why the TranzAlpine train?
Leave behind the hassle of squeezing your belongings into the car or enduring cramped plane seating. The TranzAlpine train has more than enough space for your family and your luggage and takes care of navigating so that you can focus on making memories. And being a family, you'll most likely want to request a table (these are limited). It's the perfect way to catch up over games, enjoy snacks – and see panoramic views of the South Island.
Your Window to New Zealand
"Get your camera ready".
Are you a fan of breathtaking vistas? Well, you're in luck because the TranzAlpine train offers one of the most magnificent ways to explore and travel across New Zealand. Encompassing a remarkable stretch of 223 kilometres, this journey will leave you and your children mesmerised, with your camera in hand, capturing awe-inspiring moments. Imagine the majestic Southern Alps, verdant native forests, rugged coastlines, and so much more. And if you desire an even closer encounter with the stunning surroundings, don't miss the opportunity to hop aboard the open-air carriage. You'll find yourself happily snapping away for hours on end.
Top Family Travel Tips
1. Keep them entertained
There's plenty to do, see and enjoy on board, so you won't need Wi-Fi to keep your kiddos entertained. However, if you and the kids want to watch a flick, just remember to download it the night before on your preferred device. With charging ports available at each seat, you won't run out of battery. Or, if you would like to spend some time away from the screen, why not some pack games of your own? If you're lucky enough to have a table, there'll be plenty of space to spread out. If you've forgotten games, no worries – you can purchase a deck of cards from the onboard café.,

2. Pack Snacks
While there is a great licensed scenic café on board, you may opt to bring your own snacks. Just keep it handy in your carry on bag that can be stored above your seat.
3. Wrap Up
While it's cosy and warm inside the scenic carriage, the TranzAlpine train does move through the stunning, but chilly Southern Alps. So if you intend to enjoy the open-air carriage and are travelling in cooler months, remember to pack extra layers.
4. Keep an eye out
The TranzAlpine train is a convenient, safe way to travel with kids. But the train does move as it curves around bends and corners, so if you've got young ones with you, it's important to pay close attention to their whereabouts.
Family fun off the tracks
The TranzAlpine train stretches from the South Island's West to East Coast. And while there's plenty to do onboard, the train also stops off at some of the best family holiday destinations in New Zealand, so there's fun to be had on and off the tracks.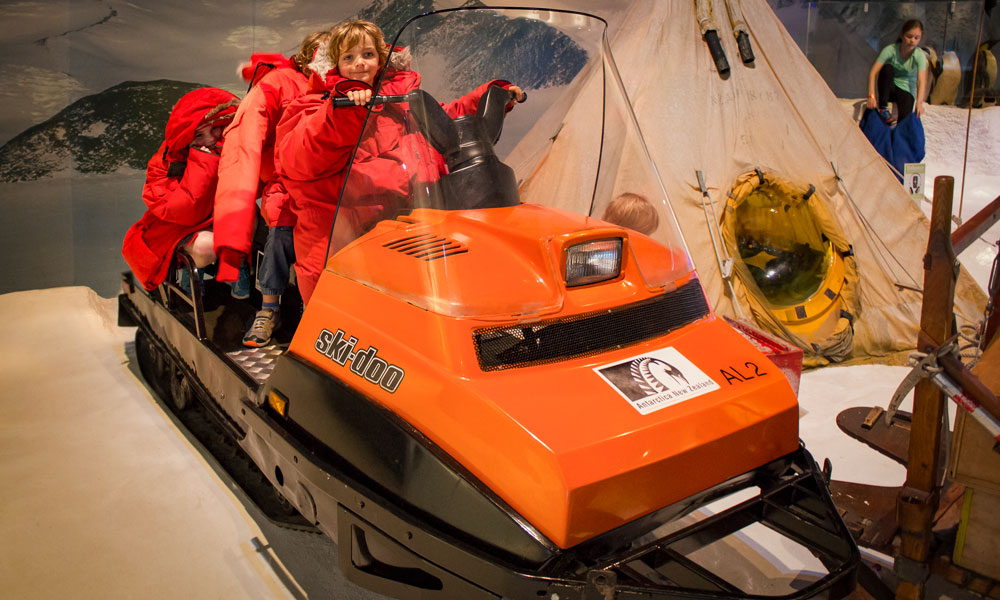 The Christchurch Antarctic Centre
If you've have some time to spend in Christchurch, the Christchurch Antarctic Centre is a fun and safe way for the whole family to experience the sights and sounds of Antarctica. Sign the kids up for the 4D special effects ice voyage while you explore the stories of the Antarctic Gallery. Or, if you want to get up close with some furry friends, head to the Husky Zone for a cuddle, or visit the Penguin Encounter. Once you're snowed out, relax in the café for a sweet treat and warm drink.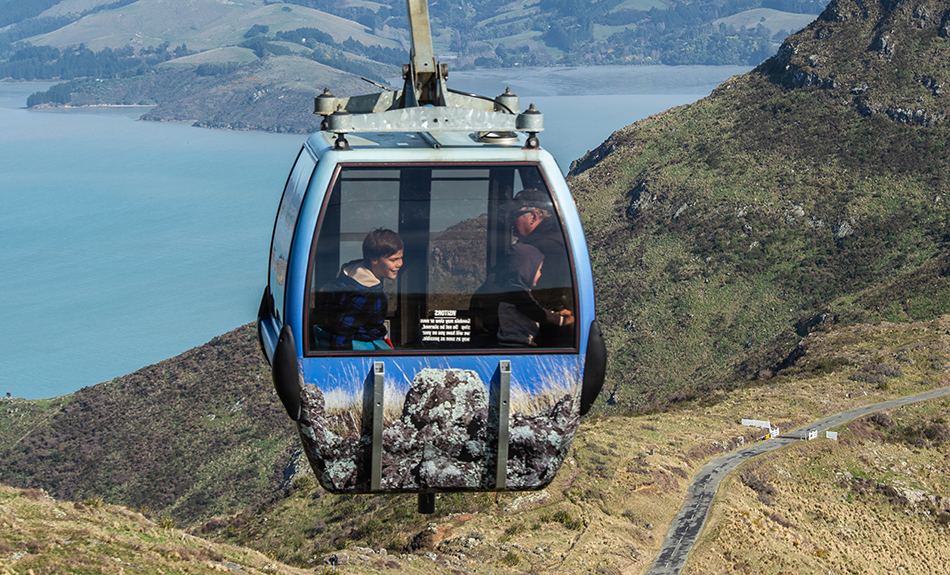 The Christchurch Gondola
For panoramic views of Christchurch and beyond head to Christchurch Gondola. Soaring well above the city, it's an experience you and the kids won't forget. Once you reach the top, there's the option of grabbing a bite from the popular Red Rock Café, taking a history lesson with the Christchurch Discovery Ride, or simply soak up the sites before returning to the bottom.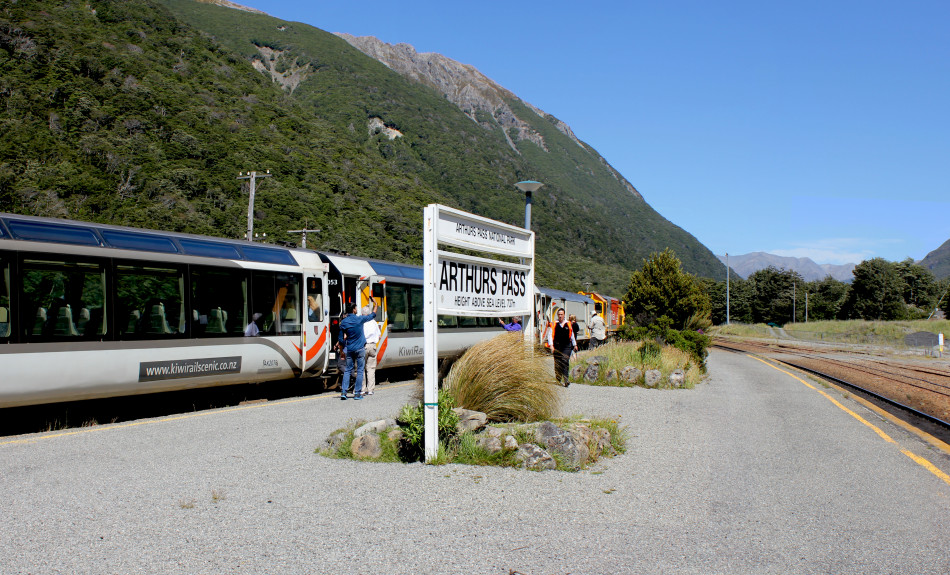 Arthur's Pass
If you're looking for family fun outdoors, look no further than Arthur's Pass National Park. It's one of the most spectacular stops along the TranzAlpine train journey– and a great way to get the kids away from the screen and into the great outdoors. The Devil's Punchbowl Waterfall is an easy to moderate walk, that's just an hour return.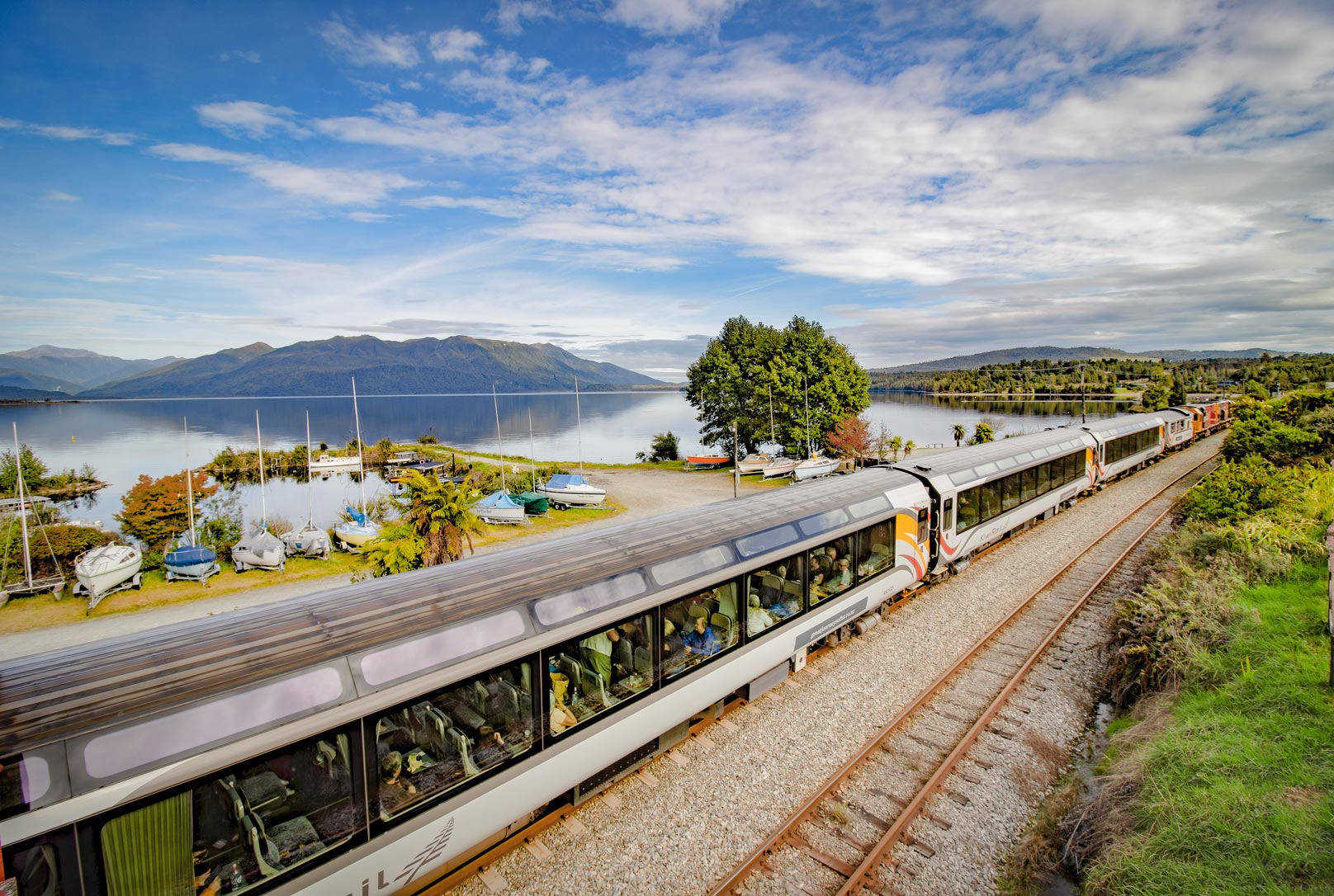 Moana and Lake Brunner
Just before Greymouth lies the tranquil destination of Moana, home to the famous Lake Brunner. Whether you have two hours to spare, or time to stop off for the night, there's plenty to enjoy in this picturesque town. For a taste of local seafood, head to King Fisher Restaurant and Bar. Or, if you're after a bit of adventure, there's jet boating, cycling, hiking tracks and even fishing safaris. Stay overnight at either a lodge, campsite, or Lake Brunner Hotel to enjoy panoramic views and the incredible mineral hot tubs!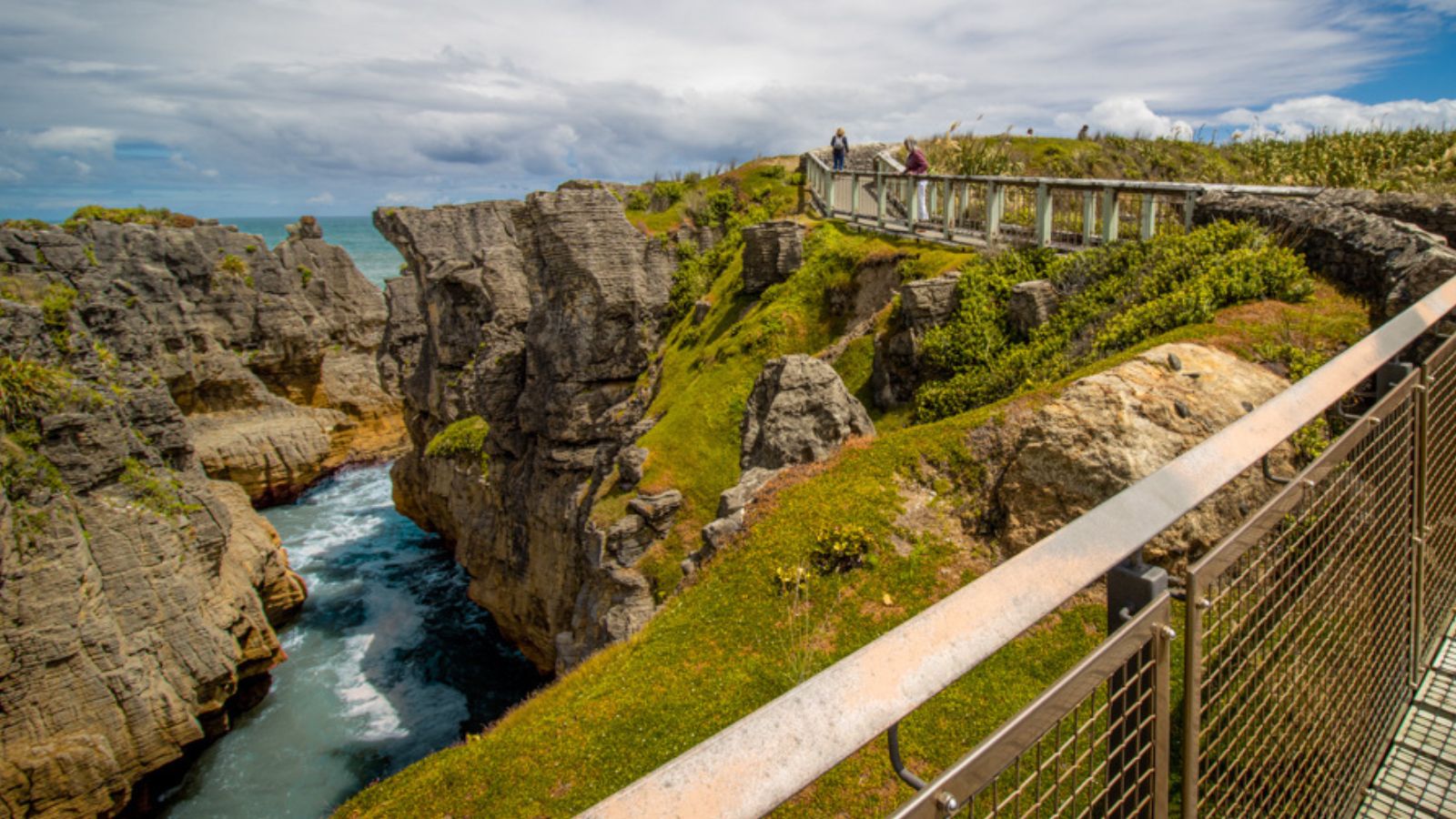 Greymouth
After completing the TranzAlpine journey and arriving in Greymouth, if you plan to return to Christchurch, you can rejoin the train at the station in one hour. If you and your family are interested in exploring the attractions, we suggest staying longer.
A visit to Shantytown offers exciting options such as a thrilling steam train ride, a captivating holographic show, or a stroll through the rainforest. Alternatively, if you prefer a more relaxed experience, you can visit the West Coast Tree Top Walk and savour the beautiful scenery while enjoying a warm beverage from the café.
For those seeking adventure, Greymouth also provides opportunities to satisfy your thrill-seeking spirit. 'On Yer Bike!' is an off-road adventure company that specialises in wet and wild experiences. Joining one of their tours and explore muddy terrain, rainforests, and winding trails. If you want to spend time by the ocean, explore the stunning Pancake Rocks in Punakaiki. This remarkable natural activity offers a breathtaking experience.
Making memories with your family
The TranzAlpine is the perfect family excursion. So, now that we've given you the best reasons to bring your family aboard, the only thing left to do is book.
Whether you're starting your adventure from the South Island's West or East Coast, it's easy to make a TranzAlpine train booking.
So, why not have a look at the fares and route map before booking your journey ahead. This New Zealand holiday will be the adventure you've been looking for.
Escape by rail with your family on these epic short breaks