Fascinating and unforgettable—discover deserted gold mining fields, ancient forests and charming tales as you pedal gentle trails along epic landscapes by bicycle.
The West Coast Wilderness Trail is waiting to be explored on this four-day off-the-beaten track adventure from cycle trail to scenic rail.
Highlights
Discover the gold rush history of the 19th century along Ngā Haerenga Great Rides of New Zealand cycle trail
Cycle along sweeping boardwalk and bush trails linking to charming coastal towns
Stay in towns seemingly frozen in time at the heyday of the last big gold rush of the 1870s
Experience the turquoise waters of Hokitika Gorge and the mighty ancient forest canopies of the West Coast
Meet the friendly West coast locals and experience their unique culture
Admire the stunning peaks, ravines, rivers, and valleys of the Southern Alps aboard the world-famous TranzAlpine train
You'll love this break
If you are keen to explore the West Coast on this fascinating cycle adventure, then this break is for you.
Discover rivers, lakes and forgotten goldfields. Cycle along historic railway lines and into native forest while being serenaded by birdsong. Discover pristine bushland and stunning views as you traverse swing bridges and sweeping boardwalks before emerging onto beaches with crashing waves. Be immersed in the gold-rush history of the 19th century throughout this unforgettable expedition as you meander to Greymouth. The world-famous TranzAlpine journey will be the cherry on-top of this unforgettable escape on the West Coast.
Inclusions
Electric bike hire for 4 days – including helmet and rear rack bag
Trip itinerary, directions and trail map info
West Coast Treetop Walkway Experience
Lake Mahinapua Boat Cruise
Guided Tour of Hokitika Gorge
One way travel on TranzAlpine train incl. afternoon tea
Accommodation in Hokitika and Kumara - 3 nights total
Breakfast x 3, Packed Lunch x 2, Dinner x 1
Luggage transfers each day (Max 15KG per bag)
West Coast Cycle Trail Shuttles
One way Air New Zealand flight from Christchurch to Hokitika
Price per person - share twin.
Itinerary
Day 1 | Alps, Ancient Forests and Scenic Wetlands

Overview

Take flight as you begin your adventure from Christchurch and experience the Southern Alps by air as you fly into Hokitika. Descending onto the West Coast region, prepare for a thrilling four days exploring the lush and historic Wilderness Trail.

As you touch down alongside the glistening Tasman Sea, your shuttle will be waiting. Briefed and fitted to your stallion (e-bicycle), you'll set off from Ross, a small gold-mining town established in the 1960s. Take in the incredible views as you pedal over the Totara River and along the Ruatapu Railway line to the West Coast Treetop experience – one of the region's most popular attractions.

Around 3:30pm you'll pull into the Scenic Waterways, welcomed by the friendly crew. Be entranced by the natural beauty of the Mahinapua lowland wetlands as you enjoy a sunset river cruise to end this unforgettable day.

Accommodation & Meals Included

3.5 - 4-Star Accommodation (1 night)
Dinner

Activities & Sights Included

Air New Zealand flight - Christchurch to Hokitika
Day 1: Cycle Trail- 33km
Lake Mahinapua
Totara River
Historic Ross Ruatapu Railway Line
West Coast Treetop Forest & Walkway
Sunset River Cruise
Shuttle from airport

Cycle Day 1: Ross to Mahinapua

Your first day of cycling begins in the historic gold-mining town of Ross. There are so many things to see around you. From the Historic Empire Hotel & Pub built on top of a mount of gold to the jail house, and stained-glass of the Catholic Church. You may even want to try your luck at gold panning in the museum before heading out on the cycle trail.

Crossing the Totara River on the old railway bridge will be a treat. With the ocean to the left and the mountains to your right, look back and see the brown patches in the green hills to discover where gold is still being discovered. Dip your toes into the fresh water before you carry on - you never know, you may uncover a flake of gold!

Continue beside the cascading ocean waves and dramatic views of Mount Cook and Mount Tasman, the scenic views don't disappoint. Before you know it, you'll arrive into the West Coast wetlands for your next activity—the West Coast Treetop Forest Walkway.

Walk among ancient treetops in Hokitika

Park your bicycles and wander into this tropical haven. This elevated adventure will get you acquainted with ancient native forests filled with Rimu and Kamahi trees.

Strolling along a remarkable 450m walkway set high 27 meters high among the treetops, you'll learn the history of the forest through interactive displays and informative signage.

With spectacular 360 views, you may even spot the rare native wildlife, including bellbirds, tui, wood pigeons and white herons.

A Relaxing Eco Boat Cruise along Lake Mahinapua

As the afternoon turns to evening, discover the serenity of your accommodation at Scenic Waterway and join the Sunset River Cruise. Gliding gently through untouched wetlands, discover the tranquillity of Lake Mahinapua and it's natural ecosystem.

Your cruise sets off in the evening as the sun starts to set, just in time for golden hour. Gently cutting through silky waters, meander the channels and take in the beauty of the flora, fauna, and native rain forests that surround you.

After a day of exploring and learning about the pioneers, gold diggers and early explorers, sit back and relax as your local captain navigates the mirrored lake.

Day 2 | Gorges, Waterfalls, Trails and Rivers

Overview

Awake in the morning to birdsong and crisp air as you sip a hot drink. Today you'll be exploring a number of iconic West Coast wonders along the Wilderness Trail. So, without further ado, jump on your bicycle and head to the Cycle Journeys headquarters to meet the shuttle.

Hokitika Gorge is waiting in all its grandeur. Walking through native forest and across the suspension bridge, take in the unique blue waters of this impressive destination.

Around 10:30am, you'll continue riding past falls, waterways and old tram roads, before emerging in the late afternoon in Hokitika. Known for its famous pounamu (greenstone), whitebait and mining history, the night is yours to explore the quirky streets. Walk along the tumbling ocean front and take in the marvellous sunset over the Tasman Sea.

Accommodation & Meals Included

3.5-4-Star Accommodation (1 night)
Breakfast at accommodation
Packed lunch

Activities & Sights Included

Hokitika Gorge & River
Day 2: Cycle Trail – 30 kms
Dorothy Falls
Lake Kaniere
Shuttle

Hokitika Gorge

Nestled on the West Coast of New Zealand, Hokitika Gorge is a true natural gem that showcases the country's untouched, raw beauty. Surrounded by the green hues of native bush, this breathtaking destination features towering rock formations, an impressive gorge and serene walking tracks.

The water of Hokitika Gorge appears a mesmerising shade of turquoise blue due to the presence of glacial flour in the water. The glacial flour in Hokitika Gorge is suspended in the water, causing the sunlight to scatter and reflect off the particles, creating a striking blue-green hue that is both stunning and unique.

Fortunate for us nature lovers, it creates an almost surreal atmosphere that is truly awe-inspiring. While you're here, make sure you head along the most popular track to take in the sights. Taking approximately 15 minutes to complete, the walk takes you along a well-maintained path that winds its way through native bush. Leading to a number of viewing platforms, you'll get a spectacular view of the gorge and its turquoise waters.

Cycling Day 2: Dorothy Falls to Hokitika

Ascend deep into the rainforest, your shuttle will climb the road to the beautiful Lake Kaniere after visiting Hokitika Gorge. Surrounded on three sides by mountains and mature Rimu forests, this glacial lake is regarded by many as the most beautiful body of water on the West Coast. It's here that your bicycles will be unloaded and your morning cycle ride begins.

Your first cycle stop will have to be the stunning Dorothy Falls at around 10:30am. Popular in the summer months to take a refreshing dip, this delightful waterfall is a must-see before making your way along the single-track Kaniere waterway trail. Cycle at your leisure, as you cruise for about 7km alongside the pristine lakefront. The journey won't feel tiresome, as you'll have many things to discover along the way. Dive into the history of Kaniere Water Race, which was built in 1875 to supply water for sluicing the Kaniere Goldfields and Kaniere Forks Power Station.

Cycle through the abundant native forest and along the historic Kaniere Tram Road, taking in the breathtaking views of the Hokitika River before making your way into Hokitika town centre.

Evening Exploration

Cruise into the charming Hokitika late this afternoon. Your bags will already be awaiting your arrival in your comfortable boutique accommodation for the evening, so why not stroll along Hokitika beach and Sunset Point to experience the stunning sunset?

After a busy day exploring, you'll have worked up a hunger. With the many bars and restaurants on offer, whether it's Ocean View Restaurant, Stumpers Bar & Café or take-away fish and chips. Your hunger will be no more after a satisfying hot meal. If you're keen to extend your Hokitika adventure, and stretch your legs after dinner, jump back on your bicycle and head to Glow Worm Dell—a magical self-guided glow-worm experience on the edge of town.

Day 3 | Coves, West Coast Locals and Sweeping Boardwalks

Overview

Canoe Cove is the departure point on Day 3. As your shuttle sees you off for another thrilling day, you'll begin your gentle climb to Milltown. Zigzagging through pristine bushland, you'll be cycling 49km today. This eventful day will be a highlight with all the exciting stops you'll find along the way.

Passing numerous creeks, Macpherson Swing Bridge and the Southern Alps, you'll have plenty of photo opportunities while you pedal along smooth trails. Arriving at Trappers Rest, a wilderness camp situated at the old Kawhaka Settlement, the kettle will be ready and waiting. Enjoy some banter with the West Coast locals over a cuppa of billy tea before making your way alongside the picturesque Kawhaka Canal.

Wandering along the wooden boardwalks, hear the gentle knocking of your bicycle against the wooden slats surface and let the bush trail lead you to the goldfields of Stafford and Goldsborough to Kumara.

Tonight you're in for a treat as you stay in the historic gold-mining town of Kumara. Booming in 1870, it still retains its 19th century charm and will be a memorable part of your journey.

Accommodation & Meals Included

3.5-4-Star Accommodation (1 night)
Breakfast at Accommodation
Packed lunch

Activities & Sights Included

Day 3: Cycle Trail – 49 kms
Lake Kaniere
Macpherson Swing Bridge
Trappers Rest Wilderness Camp
Stafford & Goldsborough Goldfields
Kumara Historic Goldmining Town
Shuttle

Cycle Day 3: Canoe Cove to Kumara

Today you will depart from the edge of Lake Kaniere where you will gently ride up through Milltown. You'll continue through pristine bushland and take in the stunning views of the creek below as you cycle across the Macpherson Swing Bridge.

The Southern Alps make a welcome appearance today, so take the time to snap some photos. Arriving into the quirky Trappers Rest, catch up with the locals and enjoy a cup of billy tea. This wilderness camp is situated at the old Kawhaka Settlement in the deep bush.

Next, head off to cycle along the scenic Kawhaka Canal. Smooth sweeping boardwalk and bush trail take you along important historic links to the goldfields of Stafford and Goldsborough. If you're interested in veering off to explore old mining tunnels – head for a quick 20-minute walk along to the Tunnel Terrace Walk to discover old mining pathways.

Arriving into Kumara around 2:00pm, you'll have the afternoon to explore and relax in this gold rush town. Tonight your accommodation pays homage to the era of the height of the Kumara gold mining boom of the 1870's, New Zealand's last big gold rush of the 19th century.

Discover Kumara

Although the name might be deceptive, Kumara is, in fact, not named after a vegetable. The locals believe the name derived from the Māori language, representing a flower off the tātarāmoa blossom - Kohe mara.

This tiny settlement will be the base for your Day 3 adventures. Once you check into your quirky accommodation, head out and explore. What will take your fancy – the old bank, Catholic Church, or possibly, you'll enjoy wandering through the old gravestones of the historic cemetery.

As evening sets in, catch up with the locals at the Theatre Royal Hotel Pub. Lined with native wood panels and colourful carpet, the ambience of this historic pub will make you feel like you're living in the gold rush of the 19th century.

Day 4 | From Coast to Coast

Overview

Taramakau River will be your guide on the final day of your cycle adventure. Discover this remote part of the trail as you head towards the Tasman Sea along the coastal sand dunes and lagoons.

Following Grey River, roll into Greymouth to drop your bikes off before heading for lunch. Monteith's Brewery is an excellent choice to quench your thirst and satisfy your hunger. It also happens to be just 200 meters from the bike depot, where your epic cycle trail experience comes to an end. After lunch, swing back to the depot to meet the shuttle to carry you to the railway station to board the TranzAlpine train for your journey to Christchurch.

By 2pm, it will be time to board the world-famous TranzAlpine train and voyage across the mighty Southern Alps to Christchurch.

Meals Included

Breakfast at accommodation
Afternoon tea aboard the TranzAlpine train

Activities Included

TranzAlpine Train
Day 4: Cycle Trail - 28km
Shuttle

Cycle Day 4: Kumara to Greymouth

The final portion of your cycle adventure will be one to remember. Trailing around waterways, you'll depart Kumara around 9:00am to conquer the next 28km of divine views and glistening rivers. The majestic body of water known as Taramakau River is home to brown and rainbow trout, as well as salmon from January to April.

Carry on towards the Tasman Sea and emerge in a lush lagoon before entering Greymouth.

Explore Greymouth

Around 11:30am you'll arrive into Greymouth. Explore the river banks, where you'll discover interesting plaques and memorials that recount and commemorate the history of the town and its people. Wander down to Monteith's Brewery where you can learn about the history of this iconic nineteenth century brewery, the brewing process, and enjoy lunch and a beer before heading on your final activity.

At 1:30pm, your shuttle will meet you at Monteith's Brewery to provide you with a shuttle to the Greymouth Railway Station in anticipation to boarding the world-renowned TranzAlpine train.

By 2pm, it will be time to join the train and voyage through the mighty pass to Christchurch.

TranzAlpine Greymouth to Christchurch train

The heavenly journey through the Southern Alps aboard the TranzAlpine train is a once-in-a-lifetime experience. Sit back and reflect on the last few incredible days exploring the West Coast while you gaze out of the panoramic windows at idyllic views.

Your journey begins alongside the Grey River, past Coal Creek, and around stunning Lake Brunner. Then you'll reach the plains of Inchbonnie before emerging out to the Otira River valley. From here, the Southern Alps will steal the show.

Ease back in your seat and soak up the mountain views while enjoying afternoon tea, reflecting on the beautiful natural world around you and the engineering mastery of the generations who built this great railway through the heavens.

Glide past Cass and Cragieburn before skirting along the steep banks of the Waimakariri Gorge. Before you know it, you'll reach Canterbury after travelling along the braided Waimakariri River.

The spectacular five-hour journey to Christchurch will be over all too soon, but the memories of this great escape by rail will live on forever.
Included Activities
Your West Coast cycle adventure lets you dive deep into incredible scenery, curious history and unmatched activities.
Unique Stays
Forest retreats to 19th century gold mining cottages– you'll stay in a range of comfortable stays throughout your cycle adventure. Unique and full of character - relax and take in the surroundings after an exciting day exploring the trails. From modern scenic waterway units to charming gold-rush towns, you'll wake up feeling refreshed to continue exploring the wild West Coast.
Seemingly stuck in time, be immersed in the charisma of these boutique locations. Envoloped in West Coast hospitality, enjoy a range of excellent restaurants, bars, and lounges, offering a range of culinary delights and refreshing libations, there will be something for everyone.
Explore more escapes on the West Coast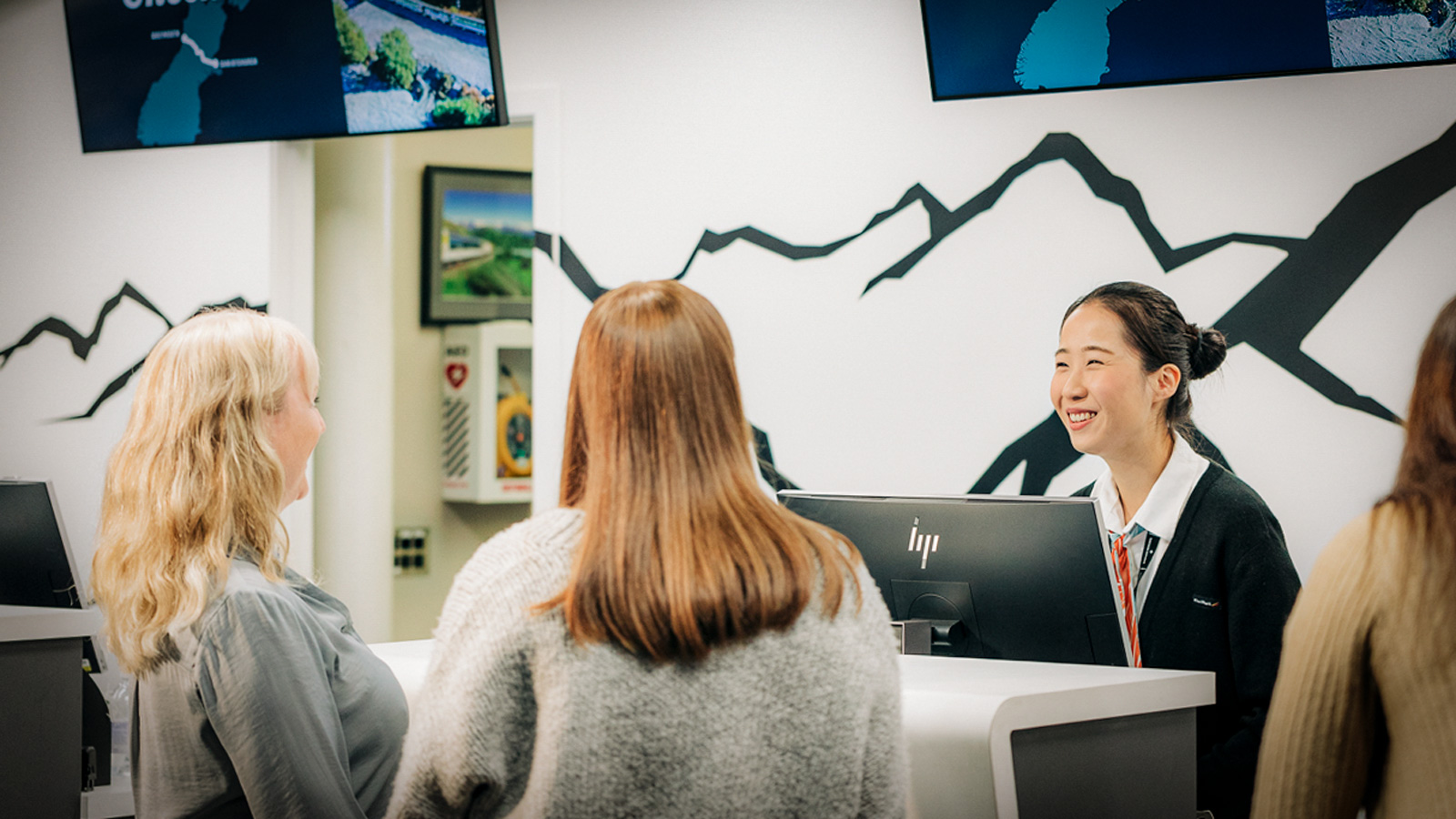 Ready to book?
If you are ready to make your booking, then use our online form to create your enquiry. We'll then make your reservations and contact you for confirmation and payment.
Alternatively, if you would like to book over the phone or have any questions, then contact our Travel Centre team right now:
Book Online