Explore the Southern Alps aboard the TranzAlpine train - one of the world's great train journeys, covering 223 kilometres (139 miles) one-way and taking just under 5 hours.
Our TranzAlpine train travels coast-to-coast through the 'Great Divide' and the indomitable spine of mountains that partitions New Zealand's South Island.
On the east, enjoy relaxing in the garden city of Christchurch and horse trekking into the mountains from Springfield. On the west, experience the tranquillity of Lake Brunner and venture into glacier country from Greymouth. At the centre, explore some great NZ mountain hikes at Arthur's Pass.
Book a journey like no other by travelling in either direction from Christchurch to Greymouth, or Greymouth to Christchurch.
Christchurch • Springfield • Arthur's Pass • Moana (Lake Brunner • Greymouth
Autumn Specials
Book a TranzAlpine journey through the season of transformation with our amazing autumn special offers.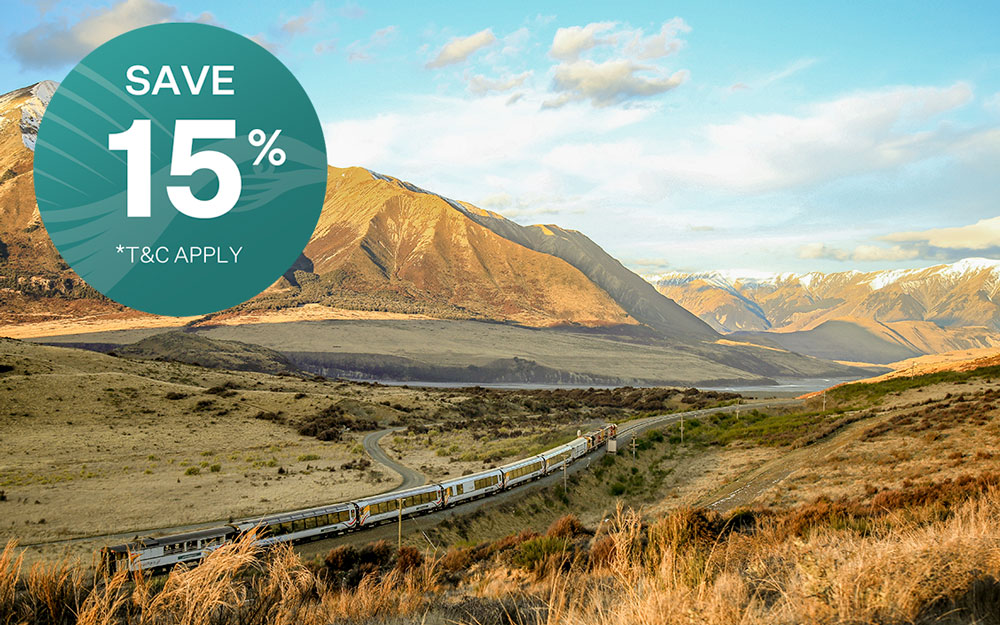 Save 15% on Eastbound Fares*
Discover the season of tranz-formation and save 15% on all eastbound Scenic & Scenic Plus fares this autumn.
PROMOCODE: GOEAST15
Offer valid from 1 March to 31 May 2023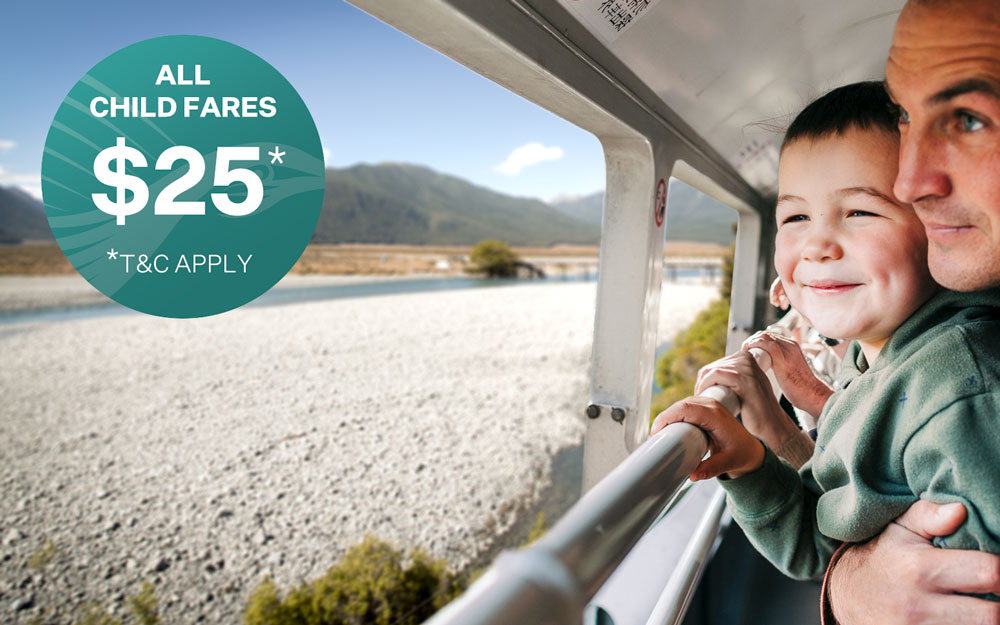 $25 Child Fares this Easter*
Book an eggsellent Easter experience for the whole family with our $25 child fares this school holidays.
PROMOCODE: KIDS25
Offer valid from 7 to 25 April 2023
Journey highlights
On this truly spectacular train journey, you'll traverse the patchwork paddocks of the vast Canterbury Plains and wind along the walls of the Waimakariri River valley. Soaring over the towering 82m Staircase Viaduct, you'll ascend into the Southern Alps through Arthur's Pass before descending through the 8.5km long Otira Tunnel.
Carving through ancient river valleys, you'll eventually escape onto the lush green plains of Inchbonnie and Moana, surrounding the great tranquil waters of Lake Brunner. Following the Arnold and Grey rivers, your journey ends in the quiet town of Greymouth, the gateway to our rugged and supremely beautiful West Coast.
Explore route
Discover the onboard experience
There is more to the TranzAlpine train experience than simply travelling through the spectacular Southern Alps. Discover more about what lies ahead onboard.
Savour the journey with locally sourced food & drink from our Scenic Cafe to accompany the views
Get closer to nature by stepping outdoors and breathing in our magnificent scenery
Glide through the heart of New Zealand's beautiful scenery in our Scenic Class carriages
Scenic Plus Dining Experience
EXPERIENCE THE FLAVOURS OF OUR LAND | FROM 14 APRIL 2023
Savour the journey with our Scenic Plus Dining Experience serving you local cuisine fresh from our kitchen carriage while you relax and enjoy the views.
With a delicious menu packed with local ingredients and accompanied with world-famous New Zealand wines, you'll experience the vibrant flavours of our land while passing through its incredible scenery.
Simply choose a TranzAlpine journey from 14 April 2023 and select the Scenic Plus fare. Visit our Scenic Plus page to find out more.
Explore Scenic Plus
Save 15% on Scenic Plus with our partner discounts
Feast on our special 15% discounts for Scenic Plus when booking before 30 April 2023 for travel between 14 April and 30 September 2023 using one of the following membership cards:
TranzAlpine train timetable
Our TranzAlpine Greymouth to Christchurch train runs long weekends (Friday to Monday) until 24 December 2022. From December 26, the TranzAlpine will be running seven days a week.
Tours & Packages
Discover more from your New Zealand train experience by booking one of our authentic Aotearoa Tours and Packages