Explore the rural heart of New Zealand's North Island on this epic 648km journey from Auckland to Wellington by train.
Our Northern Explorer train connects multi-cultural Auckland with our bustling capital, Wellington. With unique blends of international prestige and local culture, both are excellent places to start or finish your adventure.
See the scenic wonders of Middle Earth, soar over towering viaducts, across the high plains of the volcanic plateau, and beneath three mighty volcanoes.
Book a journey like no other by travelling in either direction from Auckland to Wellington or Wellington to Auckland.
Destinations include:
Auckland • Hamilton • Otorohanga (Waitomo Caves) • Taumarunui • Tongariro National Park • Ohakune • Palmerston North • Wellington
Autumn Specials
Book a Northern Explorer journey through the season of transformation with our amazing autumn special offers.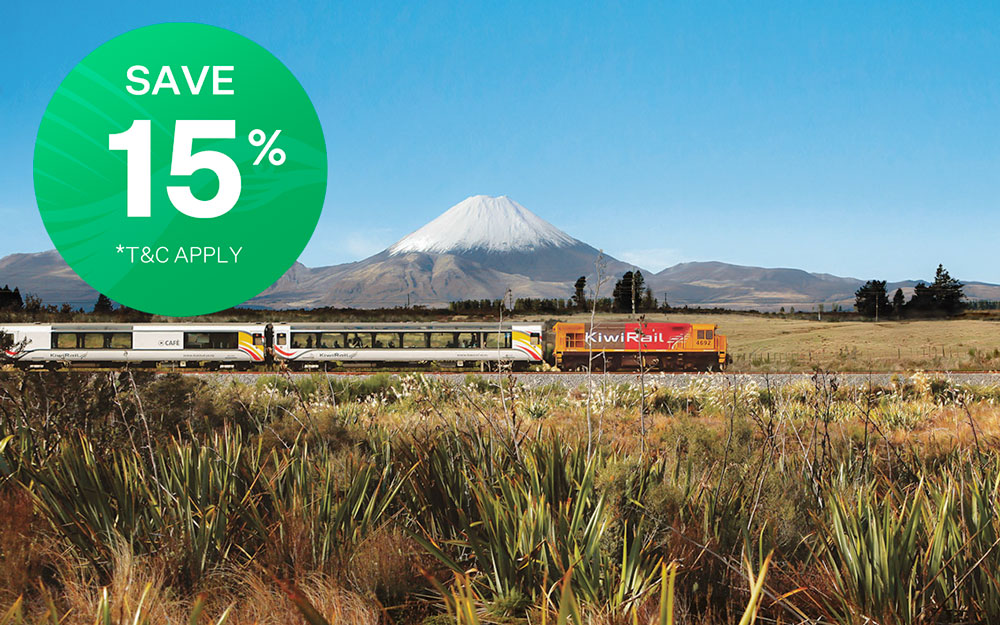 Save 15% on Northbound Fares*
Discover a kaleidoscope of autumnal colours and save 15% on all Northern Explorer fares travelling north.
PROMOCODE: GONORTH15
Offer valid from 1 March to 31 May 2023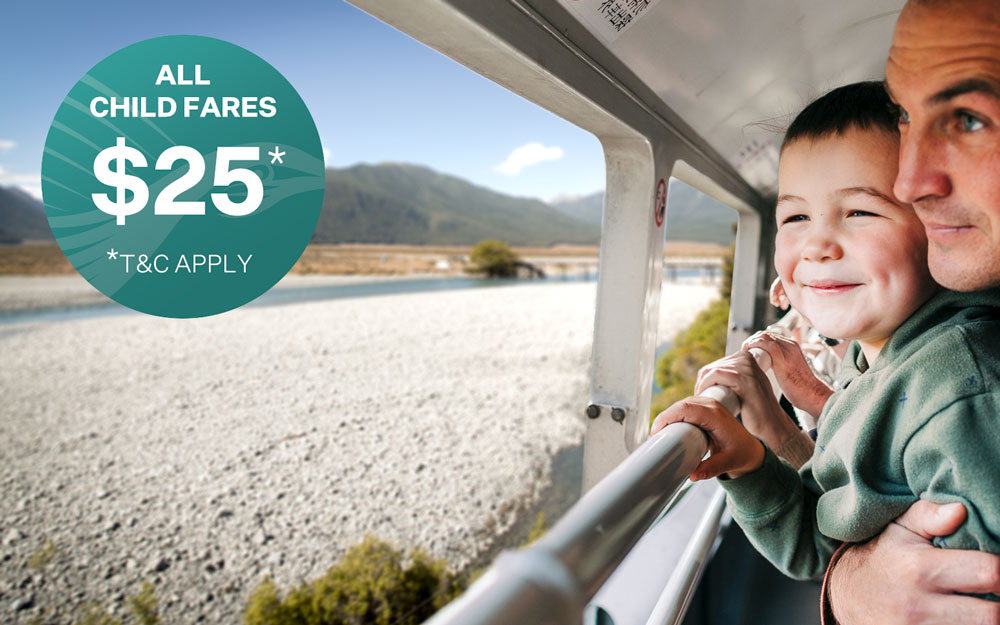 $25 Child Fares this Easter*
Book an eggsellent Easter experience for the family with our $25 child fares this easter holidays.
PROMOCODE: KIDS25
Offer valid from 7 to 25 April 2023
Journey highlights
On our spectacular Northern Explorer scenic train journey, you'll wind up the historic Raurimu Spiral and traverse the Central Plateau with its three iconic volcanic cones dominating the desert plains of Tongariro National Park.
Along the way, you'll soar over the icy mountain streams of Ruapehu, meander alongside the white cliffs of Rangitikei, cling to the cliffs on the Kapiti Coast, and enjoy intimate views of rural New Zealand with its astonishing scenic landscapes.
This is an unforgettable day-long adventure you will never forget!
Explore Route
Discover the onboard experience
There is more to the Northern Explorer train experience than simply travelling through the spectacular heart of the North Island. Discover more about what lies ahead onboard.
Glide through the heart of New Zealand's beautiful scenery in our Scenic Class carriages
Get closer to nature by stepping outdoors and breathing in our magnificent scenery
Savour the journey with locally sourced food & drink from our Scenic Cafe to accompany the views
Northern Explorer train timetable
Northern Explorer Auckland to Wellington trains depart southbound on Monday, Thursday and Saturday.
Northern Explorer Wellington to Auckland trains depart northbound on Friday, Sunday, and Wednesday.
Explore more Scenic trains
Tours & Packages
Discover more from your New Zealand train experience by booking one of our authentic Aotearoa Tours and Packages